Kids' tricycle: how to choose
Choosing a child's tricycle may seem simple. But there are several important things to consider in order to make the right choice. Here are a few key factors to help you choose the perfect kids' tricycle for your child.
By the way, you can find biking accessories on AliExpress. And AliHelper will show you reliable sellers and the biggest discounts. This is a free extension for your browser.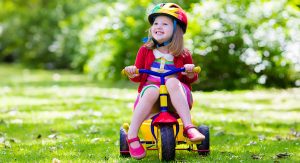 Size and age of the child
One of the most important factors is the size and age of your child. The bike should be appropriate for the age and height of your baby. If the bike is too small, it will be uncomfortable for your child to ride. And if it is too big, it can be dangerous and cause injury. Make sure the wheels are the right size for your child.
Type of Bicycle
There are different types of tricycles, including city, travel, and sport bike models. Decide how you plan to use your child's bike. If you are going to use it for city trips, you may want a bike with a comfortable seat and basket for small purchases. If you are going to use it for travel, however, look into the folding and carrying capability of the bike.
Design
It is important to make sure that the bike has a sturdy construction and can support the weight of your child. Also pay attention to the quality of the materials the bike is made of. They should be safe for your child.
Safety
Safety is another important factor when choosing a child's tricycle. Make sure that the bike has a reliable braking system and seat belts. Also pay attention to the quality of the handlebars and the presence of handle material. So that your child can hold on to the bike.
Price
Price can also be an important factor in choosing a bicycle. But you shouldn't skimp on your child's safety. It is best to choose bicycles from reputable manufacturers who guarantee the quality of their products and provide a warranty on their products.
Color and design
Finally, keep in mind that your child will probably want to choose a bike that they like in color and design. Let him or her choose the children's tricycle he or she likes. But keep other factors in mind, such as safety and quality.
Choosing a kids' tricycle is an important step in your child's development and health. Make sure that you consider all of the factors described above and choose the bike that best suits your child and their needs. Remember that choosing the right bike can be a great help in developing your kid's coordination and active lifestyle.