Whiskey Stones – Why we need them
Whiskey stones are small stones that are used to cool the drink without diluting it. Their purpose is to keep the temperature of the drink and not to change its taste.
Whiskey stones can be purchased on Aliexpress. And reliable sellers and good deals there will show you AliHelper. This is a free extension for your browser.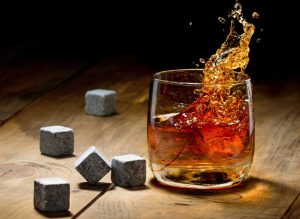 Advantages
One of the main advantages of whiskey stones is that they replace traditional ice. Which can dilute the drink and change its taste. This is especially important for those who appreciate the quality and enjoyment of whiskey. These stones can also be used for other drinks. Such as bourbon, scotch or tequila.
Another advantage of these stones is that they are easy to wash and reusable. Unlike ice, which cannot be reused and requires frequent replacement, whiskey stones stay in good condition for a long time.
Stones can be a great gift for whiskey lovers. They are not only useful but also a stylish gift. Which can emphasize the unique taste and interests of the owner.
Materials
Whiskey stones can be made of different materials. Such as granite, marble, slate, carnelian or glass. Each material has its own characteristics that can affect the taste and refrigeration of the drink.
How to use
To use stones, simply place them in the freezer for a few hours. To allow them to cool. Then, before serving your drink, just add a few stones to a glass of whiskey. And enjoy a cool drink.
Disadvantages
However, it is worth noting that some people prefer to drink whiskey at room temperature. Therefore, using rocks to cool the drink may not be suitable for everyone. Also, some whiskeys may open up better at room temperature. Therefore, the use of stones may alter their flavor profile.
A true whiskey connoisseur always tries to choose only the best varieties of this drink and does not hide their taste behind stones. These stones are rather an addition to the enjoyment. Which will help to maintain its temperature and not change the taste of the drink.
Thus, using these stones can be a useful and convenient way to cool the drink without diluting it. But it is necessary to take into account individual preferences and peculiarities of each type of whiskey. In any case, such stones are a unique and interesting accessory. Which can improve the taste and enjoyment of this noble drink.