Accessories for PS5: all for a comfortable game
The PS5 is one of the most popular gaming consoles on the market due to many factors. It has powerful hardware that allows you to run games with high resolution and frame rate. It also has a large catalog of exclusive games that are not available on other platforms. In addition, PS5 has a convenient and intuitive interface. It supports various media formats and provides convenient and flexible content management. All this makes PS5 attractive to a wide audience of gamers who are looking for high-quality and feature-rich gaming experience. Separately, we should talk about accessories for PS5.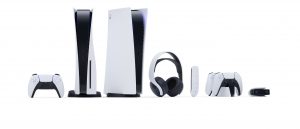 Accessories for the PlayStation 5 (PS5) game console are an integral part of the gaming experience. The new version of PS5 will please gamers with various accessories. They provide a more immersive gaming experience and improved functionality.
Accessories
One of the most popular accessories for PS5 is wireless headphones. They provide crystal clear sound and allow gamers to fully immerse themselves in the game world. In addition, PS5 wireless headphones have noise cancellation. This eliminates unwanted sounds from the environment and allows you to focus on the game.
Another equally important accessory is the PS5 controller. This controller provides improved sensitivity and faster response. Which is especially important for first-person shooters and other games. Where speed and accuracy of play are key factors. In addition, the PS5 controller has a built-in microphone and speakers. This provides easier access to chat functions and improved sound.
The third accessory is the PS5 stand, which provides a comfortable placement of the console on a vertical surface. Not only does the stand provide a more aesthetically pleasing placement for the console. But it also helps ensure optimal cooling.
Finally, among other accessories for PS5 are an extra hard drive for memory expansion, a protective film to protect the console from scratches and other damages. And also an extra charging cable for the controller.
Accessories for PS5 greatly improve the game experience and provide additional functionality. They help gamers get the most out of their games. And offer a wide range of innovative solutions for different needs and preferences. A large number of accessories for PS5 can be found on AliExpress. And to find great discounts and reliable sellers. Use the AliHelper extension.