Functions of electric kettles
Electric kettles have become an integral part of our daily lives. They allow us to quickly and conveniently heat water for tea, coffee or other drinks. But what if I told you that there are electric kettles with unusual functions that can make your life even more comfortable? Let's explore the functions of electric kettles.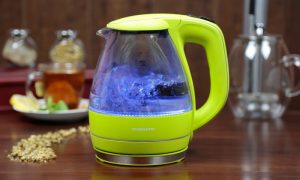 Keeping warm
One such kettle is a kettle with a heat-keeping function. It can keep water warm for up to several hours after boiling. This makes it ideal for those who like to drink tea or coffee all day long.
By the way, electric kettles in large quantities are presented on Aliexpress. And to find there reliable sellers will help AliHelper. This is a free extension for your browser.
Choice of temperature
Another interesting option is a kettle with the ability to select the water temperature. It allows you to choose the optimal temperature for brewing different kinds of tea and coffee. Which in turn allows you to achieve the best flavor and aroma of the drink.
Water filtration
Some electric kettles also have a water filtration function that removes limescale and other impurities from the water. This enhances the quality and taste of the drink. This feature is especially for those who live in areas with poor water quality. Or worried about the health of their family.
Illumination
There are kettles that have a backlit feature that creates an incredible atmosphere in your kitchen. These kettles usually have different backlighting settings and colors. Which allows you to choose the most suitable option for your interior.
Control via smartphone
There are also kettles with smartphone controls that allow you to control the temperature and brew time right from your phone. This is especially convenient if you want to prepare a drink in advance or control the brewing process from another room.
Silent operation
There are also teapots with silent operation. Which are equipped with special sound-absorbing materials and technology to reduce the noise of operation. This is especially useful for those who live in an apartment building. Or want to brew drinks at night so as not to disturb those around them.
Customized recipes
Another interesting feature is a kettle with the ability to customize individual recipes. It can remember the temperature, time, and amount of water for each type of tea or coffee. Which allows you to create unique and perfect drinks every time.
All in all, electric kettles with unusual and advanced features are becoming more and more popular and affordable for everyone. Choose the option that best suits you. And enjoy the comfort and innovation in your kitchen! These are the functions of an electric kettles.