How to cut LED strip lights
LED strip is a flexible and easy-to-use form of LED lighting that is very popular among home design enthusiasts and professional interior designers. When it comes to it, the question arises, can LED strip be cut? Yes, LED strips can be cut. But only if certain rules and recommendations are followed.
By the way, a large range of LED strips is presented on AliExpress. And to find there reliable sellers and great discounts will help AliHelper. This is a free extension for your browser.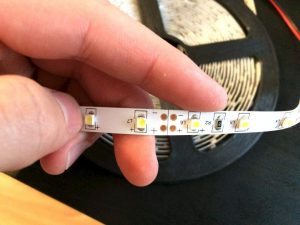 The first rule
It is necessary to use special tools. Such as scissors for cutting tape, which can be purchased in specialized stores. Manual cutting of LED strip with conventional scissors is not recommended. As it can damage the LEDs and lead to uneven backlighting.
Second rule
Before cutting the strip must be disconnected from the power source to avoid damage to the strip and health hazards.
Third rule
When cutting the ribbon, it is necessary to follow the position of the marking on the ribbon. Which indicates the place of the cut. You can cut the ribbon only by this marking to avoid damaging the LED circuit.
Fourth rule
After cutting it is necessary to protect the cut end of the tape with a special sealant or adhesive tape to avoid short circuits and damage to the tape in the future.
It is also important to note that when cutting the LED strip may change its brightness. This is due to the fact that each section of the LED strip has a certain number of LEDs. Which can affect the brightness of the strip as a whole.
If you want to keep the same brightness throughout the strip. You can use special controllers. Which allow you to control the brightness of the LEDs in different parts of the tape. Also, when buying LED strip, you can pay attention to its length and the number of LEDs per meter.
However, cutting LED strip may not always be necessary. In some cases, the manufacturer can provide the right length tape. Or you can use shorteners or connectors. That allow you to change the length of the strip without cutting.
In any case, before cutting the LED strip, it is necessary to think carefully about its location. And final length to avoid mistakes and damage to the strip.
Now you know whether you can cut the LED strip. But it requires compliance with the rules and recommendations. Properly performed cutting will achieve the desired effect and will not damage the strip.