Planetary mixer – what is it for?
The planetary mixer is a kitchen appliance used for mixing, kneading and whipping various ingredients. This powerful and efficient device is an indispensable assistant in any kitchen. And it can be used for preparing many dishes.
By the way, you can buy planetary mixers on Aliexpress. As well as any other appliances for the kitchen. And AliHelper will help you find reliable sellers and the biggest discounts. This is a free extension for your browser.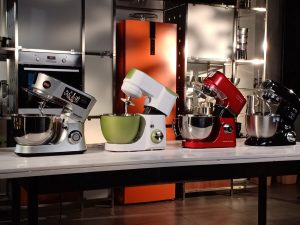 One of the main advantages of a planetary mixer is its ability to mix foods in three directions simultaneously. This is accomplished by a special design that includes bowl mounts and a motor. It rotates the bowl around its axis. And at the same time it moves the whiskers to mix the products inside the bowl.
In addition, the planetary mixer has several speeds and operating modes. Which allow you to adjust the intensity of mixing depending on the type of food and recipe. Thanks to this, you can get a more homogeneous and quality mixing. This is especially important for baked goods.
The planetary mixer can also be equipped with various attachments that allow you to expand its functionality. For example, with the chopping attachment you can easily and quickly chop nuts, dried fruits, cheese and other products. The whisk attachment allows you to get a creamy consistency for desserts and sauces.
When choosing a planetary mixer, there are a few key factors to consider.
Engine power
First, choose a mixer with a powerful enough motor. The more power, the easier it will be to mix heavier ingredients. Such as dough or thick mixtures. The optimal power for a planetary mixer is between 500 and 1,000 watts.
The size of the bowl
Second, pay attention to the size of the bowl. A larger bowl allows you to mix more ingredients. But it also takes up more space in the kitchen. If you have limited kitchen space, choose a mixer with a compact bowl.
Attachments
Third, make sure the mixer has the right attachments for your culinary work. For example, if you often make baked goods, make sure the mixer has whisk attachments for mixing dough and an attachment for whipping cream. If you often make salads, the slicing attachment will help cut down on prep time.
Materials and assembly
Finally, pay attention to the quality of materials and assembly. Choose mixers made of reliable materials that can withstand heavy use. Such as stainless steel or high quality plastic. Also pay attention to durability and build quality. So that the mixer can serve you for a long time.
All in all, a planetary mixer is an essential tool for any cook who values efficiency and quality in his work. By following the above tips, you will be able to choose the mixer that best suits your needs. And will help you to prepare delicious dishes.