Cooling teether – what is the difference
Cooling teether is an innovative device that helps babies through the teething process. It differs from conventional teethers in that it is able to cool the gums. It relieves your baby's pain and irritation.
Teethers in a large assortment are presented on Aliexpress. However, you should only order baby products from reliable sellers. AliHelper is a great way to find them. This is a free extension for your browser.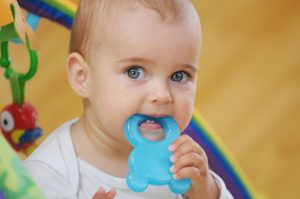 Advantages
Unlike regular teethers which can be hard and uncomfortable for a baby, a cooling teether has soft and flexible silicone elements. Which massage the gums and make the teething process easier. In addition, it can be cooled in the refrigerator. Which helps to relieve your baby's pain and irritation during teething.
Cooling teethers are available in different shapes, sizes and colors. You can choose the one that works best for your baby. Some teethers have extra features. Such as extra massagers that help babies not only survive the teething process.
In addition, a cooling teether is a safer and more hygienic option for babies. As it can be easily cleaned and disinfected after each use. This keeps it in good condition. And avoid the risk of infecting your baby with any infections.
Important nuances
Before using a cooling teether, you should pay attention to some points.
First, you should not give babies a teether without adult supervision. They can hurt themselves or damage the teether. This can lead to health hazards for your baby.
Second, you should not substitute a cooling teether for analgesics and other medications. They can have unwanted side effects and cause an allergic reaction in your baby.
Finally, when choosing a cooling teether, you need to make sure that it is made of safe and hypoallergenic materials. And also meets the quality and safety standards.
Overall, a cooling teether is an innovative and effective way to help babies survive the teething process without pain or irritation. It differs from conventional teethers in its softness, flexibility, and cooling capabilities. Which makes it an ideal choice for babies who are going through this unpleasant time. However, you should make sure the teether is safe and appropriate for your baby's individual needs before using it.