Hunting boots – which one to choose?
The right footwear is one of the most important aspects of safe and comfortable hunting. How to choose the right hunting boots? In this text, we will look at a few key points to consider.
A large selection of shoes for hunting is presented on Aliexpress. However, you should buy shoes online only from proven sellers. Find such will help you find AliHelper. This is a free extension for your browser with many functions.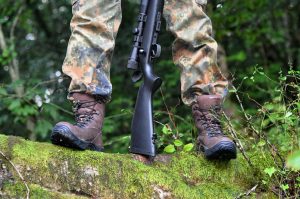 Weather and terrain conditions
The first step in choosing shoes for hunting is to determine the conditions in which you plan to hunt. If you're hunting in dry conditions, it's best to choose shoes with water-repellent properties. Which will protect your feet from sand and dust. If you hunt in the woods, you need to pay attention to the strength and resistance of the shoes to various damages. For example, from sharp branches and stones.
Type of hunting
The type of hunting also plays an important role when choosing shoes. If you hunt small game, then lightweight and maneuverable shoes are enough. Which will allow you to move quickly in the wooded area. If you hunt big game, you should pay attention to higher and more durable boots. Which will protect your feet from injuries and bumps.
Materials
The materials from which the shoes are made also matter when choosing shoes for hunting. Natural materials such as leather and suede are durable and long-lasting. But require more care. Synthetic materials such as nylon and polyester are lighter weight and well ventilated. But may be less durable.
Outsole
The outsole is another important factor when choosing shoes for hunting. A good sole should provide reliable traction, stability, and flexibility. If you are planning to hunt in mountainous or rocky terrain, it is better to choose shoes with a rough and stable sole. Which will provide reliable traction with the surface and protect your feet from bumps and injuries. If you hunt on a flatter terrain, you can choose shoes with a softer and more flexible sole for a more comfortable ride.
Size and fit
Never choose shoes that are too tight or too loose. The right size and fit is the key to comfort and safety when hunting. Shoes should fit you properly and have enough room to wear thick socks and inserts.
Additional Features
Some hunting shoe brands offer additional features. Such as water protection, insulation and durability. However, such shoes can be more expensive. And you don't always need them, especially if you're hunting in warm conditions.
All in all, choosing hunting boots is an individual process. Which depends on your preferences and the conditions in which you are going to hunt. When choosing shoes, always keep comfort, safety, and functionality in mind. To have the best hunting experience possible.