Types of knitting with knitting needles
Knitting with needles is a fascinating hobby that allows you to create a variety of things with simple tools. Knitting can be very diverse. And depending on your choice of technique, you can create different patterns and fabric structures. Let's take a look at the most common types of knitting with needles.
By the way, a large selection of accessories for knitting is presented on AliExpress. And reliable sellers and the biggest discounts will help to find AliHelper. This is a free extension for your browser.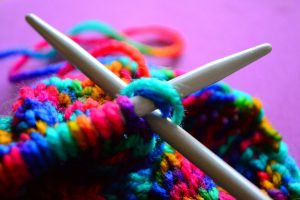 There are many different styles of knitting with needles Each has its own characteristics and is used to create different products. Below are some popular types of knitting with needles.
Stitch
One of the simplest and most widely used types of knitting. Which is used to create an elastic surface on the edges of products. Such as hats, scarves and sweaters. It is created by alternating right and left loops on each row.
Smooth pattern
A simple and classic pattern that is created with just one type of stitch. All the loops are knitted either on the front or back side. This pattern is used to create a smooth, uniform surface on products.
Openwork pattern
A pattern that uses holes and gaps between loops to create beautiful patterns. This pattern is used to create lace items. Such as shawls, shawls and even some types of tops.
Irish lace
A special type of openwork knitting that has intricate patterns and is used to create very beautiful and detailed items. Such as scarves, tablecloths and cardigans.
Heel Knitting
A pattern that creates a braided effect and can be used to create items. Such as scarves, purses and bags.
Braids
A style of knitting in which the loops are moved over each other, creating diagonal stripes on the piece. This pattern is used to create texture and an interesting look on items. Such as scarves, sweaters and pullovers.
Fair Isle
A type of knitting that uses two or more colors of yarn to create interesting patterns and designs on an item. This pattern is used to create bright, colorful sweaters, scarves, and other items.
Each style of knitting with needles can be used to create different items, and the choice depends on what you want to make. Determine what type of knitting works best for you and start experimenting with different patterns and yarns to create unique and beautiful items!