Women's T-shirts 2023 – Fashion Trends
The fashion trends epitomizing women's T-shirts 2023 will reflect boldness, individuality and experimentation with design. Clothing has long been more than just a way to protect the body from the cold and wind. But also an expression of our own personality and the world around us. T-shirts, especially for women, are one of the most versatile closet items. Therefore, the fashion for them always remains relevant.
By the way, T-shirts with fashion trends for 2023 in a large assortment are available on AliExpress. And the free AliHelper extension will help you find reliable sellers and the biggest discounts!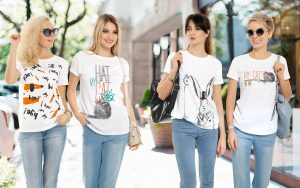 Graphic prints
One of the main trends will be T-shirts with bright graphic prints that will express the character and hobbies of the wearer. They can be decorated with quotes from favorite movies or songs. Abstract or geometric drawings. As well as photos from social networks.
Unusual necklines and styles
Another trend will be women's T-shirts with unusual necklines and styles. In addition to the traditional round necklines and V-necklines, in fashion will also be entertaining shoulder and back necklines. As well as T-shirts with a hood. This is a great way to stand out from the crowd and show your individual style.
Bright prints
In 2023, women's T-shirts will be decorated with bright colors and prints. That will create a bright and memorable image. One of the most fashionable colors will be yellow, which will be combined with other bright colors. For example, red or green. In addition, prints with floral motifs. Leaves and animals will also be very popular.
Cropped tops
Another trend is the cropped tops, which became popular in the last few years. Cropped tops are short t-shirts that usually end at waist level. They are excellent for the summer season. And look especially beautiful on slim figures.
T-shirts with embroidery
This is another trend that is very popular in 2023. Embroidery can be done in different styles and on different materials. It adds extra texture and an interesting accent to the t-shirt.
T-shirts with logos
Finally, we shouldn't forget about classic T-shirts with logos. T-shirts with the logos of sports brands, music bands and other popular brands remain in fashion in 2023. They will never go out of style and can be used for both everyday wear and sporting events.
In general, fashion trends for women's T-shirts 2023 will be distinguished by experiments with design, bright colors and graphic prints. As well as unusual cutouts and styles. Each woman will be able to choose a T-shirt that will emphasize her individuality and uniqueness.