Decorating an aquarium – ideas for any interior
Why decorate an aquarium
Decorating an aquarium is not only a way to make your aquarium more appealing to the eye. But also to create a more comfortable environment for its inhabitants. There are many ideas you can use to decorate your aquarium and make it unique.
Ways and Accessories
One of the easiest ways to decorate your aquarium is to add decorative elements such as rocks, wood, or plants. You can use different shapes and colors to create interesting compositions. Stones can come in different shapes and sizes. And using different types of stones such as granite, quartz and slate will create a more varied environment. Trees can be used as hiding places for fish. And plants will not only add beauty, but also act as a natural filter.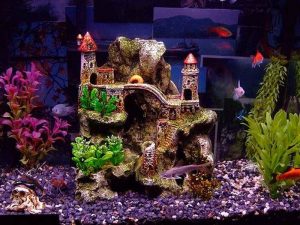 You can also use accessories such as decorative stones, shells or plastic plants to create interesting details. These elements can be used as an addition to the natural decoration, or as a separate accent. However, it is worth bearing in mind that some plastic elements may be toxic to fish. So be sure to check their safety before adding them to the aquarium.
A large assortment of aquarium decorations can be found on AliExpress.
You can also use lighting effects to create a special atmosphere in the aquarium. By installing LED lighting, you can create different color scenarios, from gentle and calm to bright and energetic.
Finally, you can create a unique aquarium using themed elements. For example, you can create an underwater city or reef with the appropriate decorations. Or you can create a themed aquarium inspired by a favorite movie or book by adding elements related to that theme.
Conclusions
All of these ideas will help make your aquarium unique and eye-catching. And give it a personal touch. Keep in mind, however, that when adding decorative elements and accessories to your aquarium. You need to make sure they are safe for its inhabitants. Some materials may be toxic or have sharp edges that could harm the fish or other animals in the aquarium.
Also, don't forget to take care of your aquarium. Decorative items and accessories can become very dirty and accumulate bacteria. So you need to clean them regularly. Some materials such as wood or stones can also change their properties over time. So keep an eye on them and replace them when necessary.
Finally, keep in mind that some decorations can change the chemical balance in the aquarium. Especially if they contain metal or ceramic elements. Therefore, before adding any new elements to the aquarium. Make sure that they will not affect the health and well-being of the animals in it.
Overall, decorating an aquarium is a great way to make it more attractive and interesting. However, remember to ensure the safety and health of your animals. And keep an eye on the condition of the aquarium. So that it always looks fresh and attractive. You can find reliable sellers on AliExpress by using the AliHelper extension.