Best wireless headphones
The market for best wireless headphones grows every year. Choosing the right ones can be a difficult task. The rating of wireless headphones can help you decide on the choice, taking into account various parameters. Such as sound quality, usability, and battery life.
The final choice of wireless headphones depends on your needs and budget. By the way, you can find a huge number of them on Aliexpress. And AliHelper will help you find reliable sellers and great deals there. This is a free extension for your browser.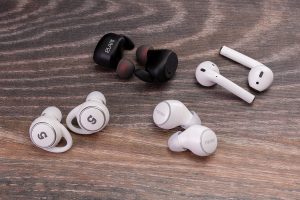 Rating
Rating wireless headphones can be very useful for those who are looking for the perfect choice for their needs. There are many headphones on the market. Each one has its own unique advantages and disadvantages. Below is a list of the most popular and highly rated wireless headphones on the market today:
Apple AirPods Pro – Probably the most popular and well-known earbuds on the market. They provide excellent sound quality, good noise isolation and a comfortable fit.
Sony WF-1000XM4 are headphones with excellent sound quality and noise cancellation. They also have long battery life and a comfortable design.
Bose QuietComfort Earbuds are headphones with excellent noise isolation and sound quality. They have a comfortable shape and stable design.
Sennheiser Momentum True Wireless 2 are headphones with great sound and design. They have a long battery life and support high-quality sound with any device.
Jabra Elite 85t – headphones with quality sound and ergonomic design. They have good sweat and dust protection and long battery life.
Samsung Galaxy Buds Pro – headphones with excellent sound quality and noise isolation. They also have a handy design and fast charging.
Anker Soundcore Liberty Air 2 Pro – Headphones with excellent sound quality and excellent active noise isolation. They also have a comfortable design and long battery life.
Google Pixel Buds A-Series are headphones with good sound quality and a comfortable shape. They also have good connectivity with Android and iOS devices.
SoundPEATS TrueAir2 – headphones with high sound quality and long battery life. They also have a comfortable design and an affordable price.
What was considered in the ranking
First and foremost, the rating of wireless headphones takes into account sound quality. This includes frequency range, sound depth and saturation, and the presence of noise cancellation. Good wireless headphones should provide clear and rich sound at all volume levels.
Another important parameter is usability. The headphones should have a comfortable and comfortable fit on your ears and should be easy to control with buttons or voice commands. In addition, the headphones should have a reliable connection to the device and a fast connection.
Battery life is also an important parameter when choosing wireless headphones. The best wireless headphones should provide at least 5-6 hours of continuous use on a single charge and be able to charge quickly.
It is also important to consider additional features such as the presence of a microphone for voice commands, support for wireless technology such as Bluetooth 5.0, and the presence of a fast charging feature.