Polymer clay tools
Polymer clay is an amazing material that is used to create jewelry, figures, toys and much more. You need special polymer clay tools, which will help you to create parts of different shapes and sizes.
You will find a large selection of polymer clay tools on Aliexpress. And the free AliHelper extension will show you reliable sellers and the biggest discounts. Suitable for any browser.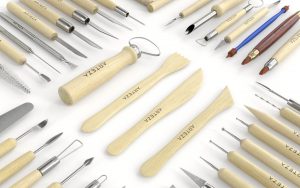 Cutting Knife
The basic tool for working with polymer clay. It will help you cut the clay into desired pieces, create parts of different shapes and sizes. Some models have a serrated blade. Which allows you to create decorative edges on the parts.
Rolling roller
This tool is used to roll the clay to the desired thickness. It is especially useful for creating large figures and flat surfaces. It can be plastic or metal. And have different attachments to create different surfaces.
Moulds
You can use them to create parts of a certain shape. For example, stars, hearts, flowers, etc. The molds come in different sizes and shapes, allowing you to create a variety of details. They are made of metal or plastic. They can be disposable or reusable.
Needles
Tools for creating holes in polymer clay parts. They can have different thickness and length. Which allows you to create holes of different shapes and sizes. In addition, needles can be used to create textures on the surface of the clay.
Tools for molding
Help to create details of complex shapes. For example, they can be used to create three-dimensional flowers, petals or leaves.
Stamps
These tools allow you to create different textures and patterns on the surface of parts. Stamps come in a variety of shapes and sizes so you can create unique patterns.
Modeling tools
Helps you create complex patterns. For example, you can use them to create three-dimensional figures, animals, and other creatures.
All of these tools help to create unique and beautiful details from polymer clay. When choosing tools for working with polymer clay, remember that they must be easy to use and suitable for your project.
It is important to choose polymer clay tools that will fit your needs and projects. Some tools may be versatile and used for different tasks. And some may be specialized and used only for certain parts or projects.