How to play darts
Darts is a fun and entertaining game that can be played with friends in a bar or at home with the family. It is very easy to learn and requires no special skills. But it can be a real challenge for those who want to become a true professional. How to play darts?
Below are some basic darts rules and tips. Which will help you become a true master of this fascinating game.
By the way, sets and accessories for darts in a large assortment are presented on Aliexpress. And reliable sellers and good deals there will help you AliHelper. It is a free extension for your browser with many functions.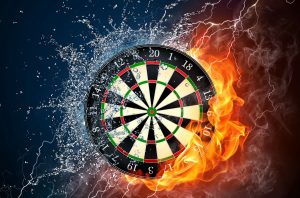 Install the dartboard
The dartboard has a standard size and layout. It must be set 173 cm above the floor and be 237 cm from the throwing point. The throwing point must be marked on the floor. And be 2.37 meters away from the board.
Select Darts
Darts are special arrows that must be thrown at the dart board. They are usually thin and light arrows with sharp tips.
Determine the rules of the game
There are many different variations of the game of darts. Including the standard 501 game, cricket, blackjack, and many others. Determine the rules of the game ahead of time to avoid misunderstandings during the game.
Strike a pose
A proper posture is essential to a successful dart throw. Stand up straight, feet shoulder width apart, hold the arrow in your right or left hand (depending on whether you are left or right-handed). And aim your eyes at the target.
Choose a place to shoot
Start the game by standing at the throwing point. Throw the arrow at the dart board, trying to hit the most valuable sectors.
Calculate Points
Points in darts are calculated according to the markings on the board. The main sectors are the outer circle, inner circle, sectors 1 to 20 and Bull's Eye sector.
Watch Your Points
During the game it is important to keep track of your points. To know how many points are left before the game ends.
Improve Your Skills
To become a true pro at darts, you need to constantly improve your skills. Practice, participate in tournaments, and watch other players play. To learn new techniques and strategies for the game.
Have fun playing
The game of darts is not only a sport discipline. But it's also a great way to spend time with friends or family. Play with pleasure, enjoy the game. And don't forget that it's the participation, not the winning that counts.
How to play darts? Playing darts is a great way to have fun and spend time. Following the rules and recommendations you can become a real master of this fascinating game.