Meat thermometer – Guide to selection and use
The meat thermometer is a useful tool that helps to cook meat to the perfect degree of roast. It allows you to control the internal temperature of the meat. To achieve optimum results. When selecting and using a meat thermometer, there are several important points to keep in mind.
Meat thermometers and other kitchen utensils in a wide range presented on Aliexpress. And AliHelper is the place to find great deals and reliable sellers. AliHelper is a free extension for your browser with many features.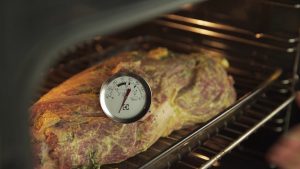 Type of thermometer
There are several types of meat thermometers. Disposable thermometers have a preset temperature and are used for single use. Digital thermometers read the temperature of the meat and display it on the screen. Infrared thermometers measure the temperature without physical contact with the meat.
Measuring Range
Make sure the thermometer you choose has an adequate measuring range for your needs. Different types of meat have different recommended cooking temperatures. Therefore, it is important to choose a thermometer with a wide range that allows you to measure both low and high temperatures.
Accuracy
Measurement accuracy is an important aspect when choosing a thermometer. Check the specifications of the thermometer and make sure that it provides accurate and reliable measurements. An accurate meat thermometer allows you to achieve the desired degree of roast.
Design and Usability
Consider the design and usability of the thermometer. It should be compact, lightweight and have an easy-to-understand interface. A convenient knob or buttons will make temperature measurement easy, and a bright and clear display will make the results easy to read.
Material and safety
Pay attention to the material from which the thermometer is made, especially its probe. It should be made of high-quality stainless steel. Which is hygienic and easy to clean. Make sure that the thermometer is safe to use and complies with food safety standards.
Calibration and Verification
It is recommended that you calibrate the thermometer periodically to maintain its accuracy. Some thermometers have an automatic calibration function. While others require manual adjustment. It is also helpful to check the accuracy of the thermometer by comparing it to other known thermometers or reference points.
Using
To use a meat thermometer, follow the manufacturer's instructions. This usually involves inserting the thermometer probe into the thickest part of the meat, avoiding bones and fatty folds. Wait for the thermometer reading to stabilize and familiarize yourself with the recommended cooking temperatures for your particular type of meat. Be careful when handling hot surfaces and avoid contact of the probe with an open flame.
Care and Storage
Follow the recommendations for care and storage of the thermometer. It is generally recommended that you wash the thermometer probe with warm, soapy water after each use and dry it before storing it. Make sure to store the thermometer in a dry and safe place to maintain its quality and performance.
The choice and use of a meat thermometer are important factors in cooking perfectly roasted meat. By following the recommendations and recommended cooking temperatures. You can achieve the desired results every time. Remember that properly cooked meat is not only delicious. But also safe to eat.