Facial scraper: what material is better
The facial scraper is an important skin care tool that helps remove dead skin cells. It stimulates blood circulation and promotes skin renewal. One important aspect of choosing a facial scraper is the material it is made of.
By the way, facial scrapers are widely available on Aliexpress. However, products for facial care should be bought only from reliable sellers. AliHelper will help you find them. It is a free extension for your browser.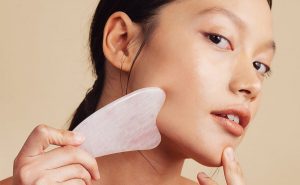 Here are a few options for facial scrubber materials and their features:
Amber
Amber facial scrubbers are some of the most popular and effective. It is a natural, organic material that is soft and pleasant to the touch. Which makes it ideal for use on sensitive skin. It also has antibacterial properties. Which can help fight acne and inflammation on the skin. Amber scrubbers also have a heat dissipating effect. Which can help relax the skin and improve microcirculation.
Rose Quartz
This facial scrubbers have become popular because of their aesthetic properties and the energetic properties of the stone. Rose quartz is considered a stone of love and tenderness. And its use in skin care can add romance and relaxation to skin care. Rose quartz also has a soft texture, making it suitable for sensitive skin. However, it is worth noting that rose quartz is quite fragile. Therefore, it requires more careful handling.
Stainless Steel
Stainless steel facial scrapers are strong and durable. Which makes them a great choice for those looking for a long-term solution. They can also have somewhat sharp edges. Which allows for a deeper and more intense cleansing of the skin. Stainless steel has antibacterial properties and is easy to clean. However, because of those same sharp edges, stainless steel scrapers may not be the right choice for sensitive skin. Or for those who are inexperienced in using such tools.
Silicone
Silicone facial scrapers have become popular because of their softness and flexibility. This facial scrapers have a smooth surface. Which can be softer and less aggressive than other materials. They are also easy to clean and water-resistant, which makes them durable. Silicone scrapers can also be a suitable choice for sensitive skin and for those who are just beginning to use a facial scrubber.
When choosing a face scraper material, it's important to consider your skin's characteristics, your preferred texture, and your comfort with use. If you have sensitive skin, a soft material such as amber or silicone may be a better option. If you need more intense cleansing, a steel scraper may be more appropriate. Rose quartz, on the other hand, may be an attractive option for those who appreciate the energetic properties of stones. And want to add romance to their skincare routine.