Paraffin wax for hands – how to use at home
A paraffin bath is a great way to moisturize and soften your hands at home. Paraffin wax for hands helps to restore the skin's natural moisture, relieve tension and fatigue. It also improves blood circulation.
Hand paraffin is widely available on Aliexpress. But cosmetics should be purchased only from reliable sellers. AliHelper is a great way to find them. This is a free extension for your browser with many functions.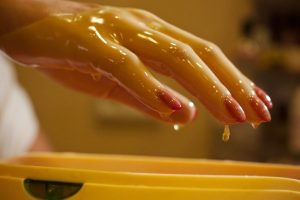 Materials Preparation
For the procedure, you will need a paraffin bath, paraffin blocks or paraffin pastes. As well as plastic or paper hand pouches.
Melting Paraffin
Heat the wax to the optimum temperature by following the instructions on the package. Usually it is enough to heat it to 50-55 degrees Celsius. Use a special paraffin bath. Or you can heat paraffin in a microwave oven or water bath.
Prepare your hands
Thoroughly clean and dry your hands before the procedure. Make sure there are no open wounds, abrasions or other injuries on the skin.
Applying Paraffin
Immerse your hand in melted paraffin and let it soak for a few seconds, then take it out and let the paraffin lightly harden on the skin. Repeat this process several times until your hand is covered in several layers of paraffin.
Covering your hands
After applying paraffin to your hands, put on plastic or paper bags and wrap them in a towel or special terry gloves to retain heat and enhance the effect.
Time of action
Leave the paraffin on your hands for 15-20 minutes to allow the skin to fully absorb the nutrients and moisture.
Removing the wax
After the time has passed, gently remove the pouches from the hands and remove the paraffin. It should come off the skin easily. If necessary, you can use olive or almond oil to lubricate the wax and make it easier to remove.
Skin Care
After removing the paraffin wax for hands, liberally apply moisturizing cream to your hands and massage it in until it is completely absorbed. This will help keep your skin moisturized and keep it soft and smooth.
It is recommended that you do the paraffin hand bath procedure no more than once or twice a week. This will help prevent your skin from drying out. It is also worth bearing in mind that paraffin can be heated. Therefore, be careful to avoid burns or discomfort during the procedure.
It is important to note that before using paraffin for hands, it is recommended to consult a doctor or cosmetologist. Especially if you have any skin problems or allergic reactions.