Epoxy Dyes – Buying Guide
Epoxy resin is one of the most popular materials for creating various products and decorations. To give your products a bright and rich color, you need to use epoxy dyes. In this text, we will tell you what dyes there are and how to choose the right one.
By the way, dyes for epoxy resin in a large assortment are presented on Aliexpress. And AliHelper will help to find reliable sellers and the biggest discounts. This is a free extension for your browser.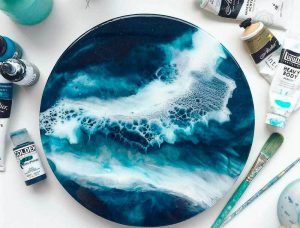 What are epoxy dyes?
Pigmented dyes
The most common type of dyes for epoxy resin. They contain dye particles that sink into the resin and give it the desired color. Pigmented dyes come in monochrome and multicolor. They can be mixed together to produce new shades.
Liquid dyes
They can be synthetic or organic. They are perfectly soluble in epoxy and leave no residue or stain.
Metallic pigment dyes
These have a brilliant effect and lend a metallic hue to products. They can be used for the creation of jewelry and decorative elements.
How do I choose the right colorant for my epoxy resin?
Determine the color you need
Before you choose a dye, determine the color you want.
Consider the type of epoxy resin
Some dyes may not be compatible with certain types of resin. Check with the resin manufacturer for recommendations on how to choose a dye.
Check the quality of the dye
Choose a dye from a reliable manufacturer. And pay attention to the date of manufacture. Older dyes can lose their quality characteristic. And won't give the desired result.
Check the instructions for use
Make sure you mix the dye with the epoxy correctly as recommended.
Use small portions
When using epoxy dyes, it is recommended that you start with small portions. To make sure the color meets your expectations. If you want a richer color, add the dye gradually.
Don't forget about mixing
Mixing epoxy dyes is an important process that must be done carefully and evenly. Use special tools. Such as a mixer or mixing stick to get an even distribution of the dye in the resin.
Use Protective Equipment
When working with epoxy dyes, be sure to use protective equipment. Such as gloves and a mask. Some dyes can cause allergic reactions or skin irritation.
In conclusion, choosing a dye for epoxy may seem like a daunting task. But if you consider all of the above recommendations, you'll have no problem choosing the right dye for your project. Remember, choosing the right dye will help give your products a unique and vibrant look.