The 11.11 Sale on AliExpress: The Truth About the Discounts of the November Sale
11.11 is a date that many shoppers around the world eagerly await. It is the day when AliExpress, the largest online shopping platform, holds one of the biggest sales of the year. What is the 11.11 sale on AliExpress, why is it so popular, and can you really make profitable purchases during this period? Let's find out!
The History of "Singles' Day"
The history of "Singles' Day" began in China in the 1990s. November 11 was chosen as the date to celebrate single people because the numbers 11.11 resemble the four-digit code used in China to denote loneliness (1 for one). Over time, this holiday has turned into a global event.
The 11.11 Sale on AliExpress or Global Shopping Day
AliExpress, as a Chinese company, has participated in this tradition and turned 11.11 into a day of incredible discounts and sales. This event is also called the "Global Shopping Day" on AliExpress. On this day, shoppers can find products at incredibly low prices and receive additional discounts by using coupons. In theory. But in practice, most discounts turn out to be fake. Sometimes, sellers even force buyers to overpay for an item they like.
When does Aliexpress 11.11 sale start?
Like all major events on the Chinese marketplace, the November sale on AliExpress is carried out in two stages – the warm-up and the sale itself.
• 08.11-10.11 – warm-up
• 11.11-17.11 – sale
Secrets to Successful Shopping on the 11.11 Sale
Beware of fake discounts
Unfortunately, major sales are an additional reason for sellers to profit from buyers. Taking advantage of the excitement, some stores display an unrealistic "pre-discount" price. They may edit the prices on the product card at their discretion. Like, for example, on this toolbox. Allegedly, it used to cost $9.29, and now it has a generous 56% discount.

However, if you install the free AliHelper browser extension and go to the "Price Changes" section (you can read more about it here), you will notice that the price has not risen above $1.27 recently.

If you come across a similar fake discount but would like to buy this item cheaper, even later, in the same "Price Changes" section, click the "+ Monitor the Price" button. When the price drops, you will receive a notification.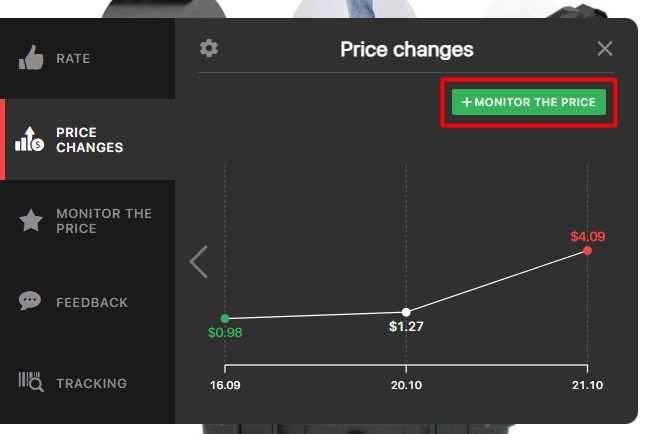 Plan your purchases in advance
Create a list of products that interest you and follow them during the preparation period for the sale.
Use coupons
Look for discount coupons and activate them before placing your order.
Compare prices
Compare prices from different sellers to find the best deals. Don't forget that lower-priced offers often come with paid shipping. So either check this point before adding an item to your cart or filter out items with free shipping during your search.
Why is the Aliexpress November sale so popular?
Global Event
As AliExpress ships its products worldwide, this event attracts the attention of buyers from all corners of the earth. Many are looking forward to this day to make profitable purchases.
Impressive Discounts
On this day, discounts on many items can be much larger than in other periods of the year. Using AliHelper, you can find the real ones. But they are likely to be lower in any case than those claimed by the seller. Here is an example of a more or less real discount.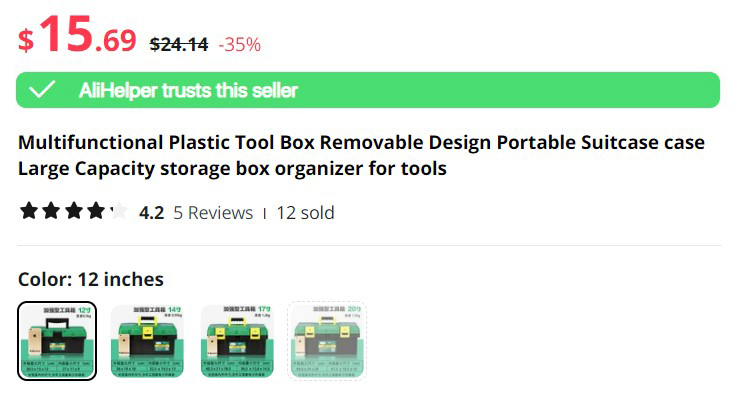 If you believe the product card, the toolbox is sold at a 35% discount for $15.69, and supposedly it used to cost $24.14.

In the "Price Changes" section, you can see that the cost has indeed decreased by $3. However, it is still not $24.14, which the seller claimed on the product card.
Wide Range of Products
AliExpress provides access to a huge range of products, from clothing and shoes to electronics and home goods.
Free Shipping
Many sellers offer free shipping during Aliexpress November 11 sale, making purchases even more attractive.
Special Offers
On this day, you can get additional discounts by using coupons and participating in various promotions. Also, don't forget about cashback!
Subscribe to the Newsletter
Subscribe to the AliExpress newsletter to receive notifications about upcoming promotions and discounts.
The Aliexpress 11.11 sale is an opportunity to save money and make interesting purchases. With the right planning and strategy, you can enjoy this global event and purchase products at attractive prices. However, be prepared for the fact that, possibly, all the items you like during the sale will be even more expensive than usual. So carefully check the current discounts on AliExpress 11.11, study the sales calendar, and subscribe to notifications about price reductions for selected items.