How to put on a wig – Guide
Put on a wig is an art that can give your look new life. Whether you need a wig for medical reasons, theatrical performances, carnivals or just for a change in your look, putting a wig on correctly can make it look discreet and natural. In this article, you will find tips to help you learn how to put on a wig.
By the way, you will find a large assortment of wigs and assortments on AliHelper. And AliHelper will show you reliable sellers and the biggest discounts. This is a free extension for your browser.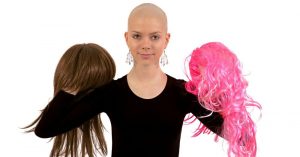 Prepare your hair
If you have long hair, gather it into a tight bob or braid it. If your hair is short, style it as flat as possible and fix it with gel or spray. So they don't look underneath the wig.
Prepare the wig
Carefully brush the wig, making sure all the strands are separated and there are no knots. If the wig has netting or lace, make sure they are carefully secured and not tangled.
Put the wig on your head
Bring the wig to your forehead hairline and gently pull it onto your head, aligning the front of the wig with your forehead hairline. Make sure the wig is evenly distributed on your head and doesn't squeeze.
Secure the wig
If your wig has an adjustable strap or clasp, use them to secure the wig to your head. If your wig doesn't have an adjustable strap. You can use bobby pins or special wig hairpins. To secure it to your head.
If you are going to be actively moving or spending a lot of time outdoors, additional ways of securing the wig are recommended. Such as extra hairpins, glue, or fixing spray. To make sure your wig stays securely in place throughout the day.
Style the wig
Use a comb to style the wig the way you like. You can create different hairstyles, twist curls, or add volume to the wig to achieve the style you want.
Check the natural look of the wig
Look around in the mirror and make sure the wig looks natural. And unobtrusive on your head. If there are any irregularities, smooth them out with a comb or correct the strands with your fingers.
Match the right accessory
If you want to add even more realism to your wig look, pick matching accessories. Such as a headband, cap, bow or other elements. That will match your wig and your style.
Be confident in yourself!
Wear the wig with confidence and dedication. Remember that it is just a stylish accessory. That can help you change your look. So feel free to express your individuality and enjoy your new look.
Wig care
After you have removed the wig. It is recommended to comb it thoroughly and store it in a special box or net. To avoid tangling and keep its shape. Also, wash and care for the wig regularly according to the manufacturer's instructions to keep it looking and lasting.
Putting on a wig is a creative process that requires patience and care. By following the above steps and rules. You will be able to wear the wig with confidence. And enjoy its effect, adding variety to your images and styling. Now you know how to put on a wig.