Types of knife sharpeners: How to choose the perfect one for yourself
Introduction
Knife sharpeners are an essential accessory for any cook or home cook. However, not all knife sharpeners are equally effective at sharpening knives, and each type of sharpener has its own advantages and disadvantages. Let's take a look at some of the most popular types of knife sharpeners.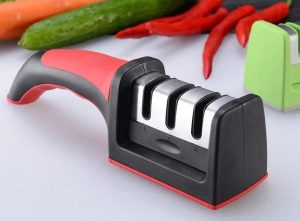 Types of knife sharpeners
Manual knife sharpeners are probably the most common type of knife sharpener. They are a simple device that uses abrasive materials, such as ceramic or diamond, to sharpen a knife. Manual sharpeners can be single- or double-sided and can have varying degrees of grit. However, using a manual sharpener requires some practice to achieve a perfect sharpening.
Electric sharpeners are a more expensive but also more effective option for sharpening knives. They use diamond or abrasive wheels that spin at high speed to sharpen the knife. Electric sharpeners usually have multiple sharpening angles, allowing you to get the best sharpening for different types of knives. However, using an electric sharpener also requires some experience and care to avoid damaging the knife.
Sharpening stones are a traditional method of sharpening knives that use natural or artificial stones, such as arcanzas, ceramic or diamond, to sharpen the knife. Sharpening stones have varying degrees of grit, allowing you to choose the best option for your particular knife. Sharpening stones require more care and precision than manual or electric sharpeners, but they also allow you to get the best sharpening for your knife.
You can find a large selection of knife sharpeners on AliExpress.
Conclusions
Each of these types of knife sharpeners has its own advantages and disadvantages. And choosing a particular kind depends on your personal preference and experience. If you're new to using knife sharpeners, it's best to start with the simpler and more affordable options. Such as hand sharpeners or sharpening stones. They may require more time and effort. But they will help you learn how to sharpen your knives properly.
If you are a professional chef or have a lot of experience with knives. However, you may want to consider more advanced and expensive options. Such as electric sharpeners. They can significantly reduce the time it takes to sharpen your knives. And provide a more accurate and perfect sharpening.
Regardless of which type of knife sharpener you choose. Remember that properly sharpening your knife is an important aspect of caring for it and keeping it sharp. A sharpened knife allows you to cook better and tastier food. And it also reduces the risk of injury and damage while handling your knife.
It's also worth keeping in mind that not all knives are suitable for all types of sharpeners. For example, some knives may have thinner blades that can get damaged. If you use coarse abrasives. Therefore, before selecting a sharpener for your knives. You should study the operating instructions for each particular type of knife. And the manufacturer's recommendations for the use of sharpeners.
In the end, the right choice of knife sharpener depends on your personal preferences, experience with knives. And the specific characteristics of each knife. Therefore, it is advisable to do some research. And consult with a vendor or a knife sharpening professional before purchasing a knife sharpener. You can find reliable sellers on AliExpress by using the AliHelper extension.