How to use a breast pump: detailed instructions
For many breastfeeding moms, breast pumping becomes an indispensable aid. It allows you to save milk when you can't hold your baby directly to the breast. Or you want to build up a milk supply. However, it is important to read the instructions and learn how to use a breast pump before you start using it.
By the way, a large selection of breast pumps is available on Aliexpress. However, products for babies should be purchased only from trusted sellers. AliHelper will help to find such merchants. This is a free extension for your browser.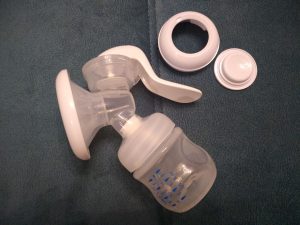 Step 1: Preparing your breastpump
Before you start using your breast pump, make sure it is clean and sterile. Wash all parts of your breastpump, including the funnel, bulb, lid, and valves, with warm, soapy water and then rinse under running water. You can also use special cleaning products for your breastpump. Afterward, dry all parts of the breast pump. Or leave them on a cloth for additional drying.
Step 2: Choosing a Mode and Setting the Vacuum
Many breast pumps have different modes and vacuum settings. Therefore, it is important to read the manual for your particular breast pump. Some breast pumps have manual vacuum settings, while others have automatic modes. Choose the mode that is most comfortable for you.
Step 3: Breast Massage Techniques
Before you start using the breast pump, it is recommended that you perform a breast massage. Breast massage helps stimulate milk production and can increase the efficiency of the process. Massage your breasts in gentle circular motions from the outside to the nipple. You can also gently tug your nipples to stimulate the milk ducts.
Step 4: Applying the breast pump to your breast
Choose a comfortable position for yourself, sitting or standing. Make sure you are sitting or standing upright so that the breast pump rests properly on your breast. Start creating a vacuum in the breast pump, using the mode and vacuum settings you selected. Make sure the vacuum is not too strong or too weak. To avoid discomfort or trauma to your breasts. Make rhythmic and gentle movements with the breast pump after the vacuum is established. At the same time, massage your breasts in gentle circular motions. To stimulate milk production. If you are using a dual breast pump, after finishing the session on one breast, switch to the other breast and repeat the process.
Step 5: Ending the session and storing the milk
When the breast pump session is over, stop the vacuum and gently remove the breast pump from the breast. If your breast pump has a flask, first remove it and then disconnect the funnel. Pour the milk you have collected into special containers or milk storage bags. Then store the milk in the refrigerator or freeze it, depending on your plans for use.
Step 6: Clean your breastpump
After using your breast pump, wash all parts thoroughly in warm, soapy water. Then rinse all parts under running water and air dry them. Or with a soft cloth. Make sure all parts of the breast pump are completely dry before using it again.
Step 7: Breast Care
In addition to using the breast pump correctly. It's also important to pay proper attention to breast care. Before using the breast pump, it's a good idea to massage your breasts in gentle circular motions. Or warm her with a warm compress to stimulate lactation. After using the breast pump, it is also recommended to lubricate the nipples of the breast with milk cream or natural oil. To prevent dryness and cracking.
I hope that this detailed information on how to use a breast pump has been helpful to you.