Trolling wobblers – choose the best option
Trolling wobblers are one of the most effective and versatile ways to catch fish. They are artificial lures that imitate live fish. And they allow you to catch both predatory fish, as well as wild fish.
Choosing the best trolling wobblers can be difficult. It requires some knowledge and experience. First of all, you need to decide on the type of wobbler. There are several basic types of wobblers for trolling. Each of them has its own features and advantages.
By the way, a huge number of wobblers you can find on Aliexpress. And reliable sellers and great discounts will help you find AliHelper. This is a free extension for your browser.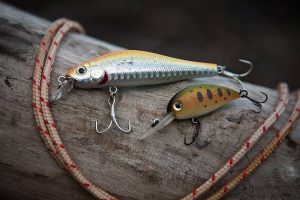 Crankbaits
They have a body in the form of an oval and a special paddle tail that when moving creates a powerful oscillation and attracts the attention of fish. Krenkbaits are suitable for catching large predatory fish. Such as pike, pikeperch, perch.
Jerkbaits
They have a longer shape than krenkbaits and are designed to imitate wounded fish. Jerkbaits have a characteristic lateral movement, which gives the impression of wounded fish, and attracts predators. Jerkbaits work well when catching pikeperch and bass.
What to consider
When choosing a wobbler for trolling, you should also pay attention to its size and color. The size of the wobbler should match the size of the fish you want to catch. The color of the wobbler depends on the fishing conditions and the type of fish. If you are fishing in bright sunlight, it is better to choose a bright color wobbler. And in the dark time of day – a dark color.
In addition, it is worth paying attention to the quality of the wobbler. The best wobblers for trolling are made from high-quality materials, have good balance and buoyancy. And also have reliable hooks and rings.
When choosing a wobbler for trolling, you need to consider the fishing conditions. If you are fishing in shallow water, it is better to choose a wobbler with buoyancy to avoid snagging on the bottom. If you are fishing in deep water, it is better to choose a wobbler with less buoyancy. To reach the desired depth.
Finally, it is important to choose the right trolling speed and depth. Trolling speed should be fast enough for the wobbler to have maximum effectiveness. But not too fast for the fish to have time to attack the lure. The depth of trolling depends on the type of fish and the fishing conditions.
In general, choosing the best trolling wobblers depends on many factors, such as the type of fish, fishing conditions, size and color of the wobbler, its quality, etc. Choosing the right wobbler will allow you to increase your chances of successful fishing and enjoy the process.