Inflatable Pools – Buying Guide
Inflatable pools come in many different types and sizes, which can make the choice quite difficult. Here are some of the most common types of inflatable pools and factors to consider when choosing.
By the way, you'll find a large selection of inflatable pools on AliExpress. And the free AliHelper extension will show you reliable sellers and the biggest discounts.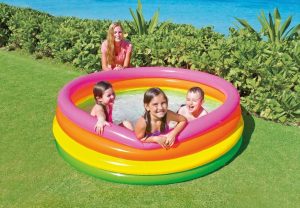 Round pools
The most common type of inflatable pools. They are often chosen for home use. They are lightweight, easy to use. And they can be quite durable if you choose high quality material.
Oval pools
These pools are larger than round pools. And can be the perfect choice for a family with children or for party use. They tend to be more expensive than round pools. But can look more elegant and attractive.
Rectangular pools
A type of pool that is suitable for people who want a pool more similar to a traditional, earthen pool. They can be more expensive than other types of inflatable pools. But because of their shape, they look exclusive.
When choosing an inflatable pool, consider the following factors:
Size
Determine how many seats you need and what size pool is right for your job. Larger pools can be more expensive and take up more space. But can be the perfect choice for large families or children's parties.
Quality of Material
Inflatable pools can be made of different materials. The most common are vinyl and PVC. Make sure the pool you choose is made of a high-quality material that will last longer. And will be resistant to damage.
Availability of extra features
Some pools may have extra features. Such as pumps, filters, and showers. Think about what additional features might be good for you.
Brand and Warranty
Choose a brand that is known for its quality and reliability. Also, make sure that the pool you choose has a warranty in case of damage or malfunction.
Price
Inflatable pools can be priced differently depending on their size, type, quality of material, and additional features. Set a budget and choose a pool that fits your financial means.
Inflatable pools can be a great choice for those who want to enjoy summer days in the comfort of their own backyard. By following these tips, you will be able to choose a pool that is right for you. And will bring you maximum enjoyment and relaxation.