Women's jeans: spring 2023 season trends
Women's jeans are a versatile closet item, which does not go out of fashion and is constantly updated. Spring 2023 is no exception. Jeans will be at the top of this season's trends. Below you will see the main items that will determine the fashion trends of the category women's jeans spring 2023.
Now you will find an abundance of women's jeans on Aliexpress. But buying clothes from questionable sellers is not safe. The free AliHelper extension will help you find reliable stores.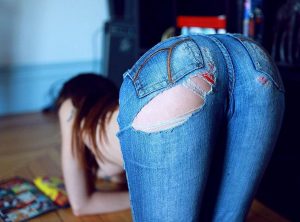 A feminine silhouette
In 2023, designers are focusing on creating feminine and comfortable jean silhouettes. One of the main trends will be boyfriend jeans with less constriction and softer textures. These models allow you to create a free and easy image. Accentuate femininity and casualness.
High heights
High-fit women's jeans will be one of the main trends of spring-summer season 2023. They accentuate the beauty of a woman's figure, creating graceful and spectacular lines. Tailors use fabrics with added elastane for comfort and freedom of movement.
Bright colors
Spring jeans will be made in bright and saturated shades. Such as red, blue, green and orange. This will create a fresh and bright image, attracting attention and emphasizing individuality. Besides, we'll see a lot of graphic prints and patterns, which will give the jeans a special charm.
Embellishments
An important element of the Spring 2023 trend is the decorative elements on the jeans. Women's jeans will be embellished with different elements such as tassels, lace and embroidery. This will allow each woman to create her own unique and individual image, adding a touch of originality to it.
Overall, women's jeans will be one of the main trends of the spring-summer season of 2023, offering a wide range of models and styles for every woman. It's important to remember that jeans are not only comfortable and practical clothes. But also an expression of your style and personality. Choosing models for spring season 2023. Pay attention to the quality of materials, silhouette and combination with other items of your closet.
In this way, spring 2023 women's jeans are trendy and stylish options that will allow you to create a unique image. Express your individuality and sense of style. Following the main fashion trends. Every woman will be able to find her ideal pair of jeans and become a real star of the spring-summer season 2023.