What is jute rope?
What is jute rope? Jute rope is a versatile material that can be used in a variety of applications. From gardening and landscaping to construction and decorating.
From a plant called jute. Jute is a twisting plant that grows in the tropical and subtropical regions of Asia. Rope is made from the stems of the plant. Which are harvested and then dried in the sun. The stems are then broken into fibers that can be pulled into long strands. These strands are then twisted into a rope of the desired diameter. And it is impregnated with water repellents to make it stronger and more durable.
Jute ropes in a large assortment is presented on Aliexpress. And find there reliable sellers and great deals will help AliHelper. It is a free extension for your browser.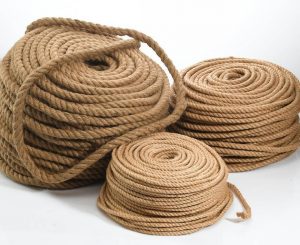 Advantages
Jute rope has many advantages. It is one of the strongest natural ropes. It has a good resistance to water, sun and temperature fluctuations. In addition, it is very flexible and easy to use.
Fields of use
Due to its strength and reliability, jute rope is often used to create various structures. For example, bridges, ropeways, stairs, etc.
Jute rope can also be used for decorative purposes. For example, to create a stylish decoration in the interior, including the creation of costume jewelry and various accessories. It is also used in gardening and landscaping. More jute rope is used in crafts and hobbies. Such as macrame, embroidery and knitting.
One of the most common uses of jute rope is to use it for packing and carrying goods. It can be used for tying and securing cargo on vehicles. It can also be used for hanging and securing various items.
In agriculture, jute rope is often used to tie hay or straw into bales. It can also be used to strengthen garden plants and trees. So that they are not damaged by strong winds or rain.
In addition, jute rope can be used in garden design to create original compositions and decorative elements. It can be used to create woven flower pots, strapping trees and shrubs. As well as to create country furniture.
Disadvantages
Despite the fact that jute rope is a strong and durable material, it also has its disadvantages. For example, it is not very resistant to water. And it can rot with prolonged contact with moisture. It can also fade in the sun. Therefore, it is not recommended to use it as an outdoor decoration.
What is jute rope? In general, jute rope is a versatile and reliable material. Which can be used in a wide variety of applications. It is easy to use and affordable. Therefore, it is a popular choice for those looking for a quality and reliable material for their projects. Now you know what jute rope is made of.