Laptop stand – Buying guide
Nowadays, with most people working on laptops, it is becoming more and more important to have the right stand. A laptop stand can help improve working comfort, reduce strain on your neck and back. As well as increase productivity. In this guide, we'll cover what to look for when choosing a laptop stand.
A large selection of stands for your laptop presented on Aliexpress. And to find reliable sellers and good deals there will help AliHelper. This is a free extension for your browser.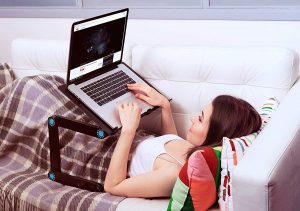 Materials
Many coasters are made of plastic. This makes them lightweight and portable. However, such stands may be less durable than those made of higher quality materials. Such as aluminum or steel. When choosing a laptop stand, you should pay attention to its durability and stability.
Height
A good laptop stand should have the ability to adjust the height. To adjust it to your needs. The choice of height depends on how you use your laptop. For example, if you often work at a desk, you may need a tall stand. To reduce strain on your neck and back. If you often work in a chair or on a sofa, a low height stand may be more comfortable.
Surface
Coasters can have a variety of surfaces. Such as fluted, smooth or with pads. A fluted surface can help prevent your laptop from slipping. While a smooth surface can be more comfortable to use. The pads on the stand can help reduce vibration and noise from laptop fans.
Size
Coasters can come in a variety of sizes and shapes. And you should choose the one that fits your laptop. Some stands have adjustable mounts that can fit laptops of different sizes.
Additional features
For example, some stands have built-in fans that help cool your laptop and prevent it from overheating. Other stands may have built-in USB ports that can be used to connect additional devices to the laptop.
Price
Finally, when choosing a laptop stand, you should consider its price. The price of stands can vary depending on their quality, features and brand. You should choose a stand that fits your needs and budget.
In the end, choosing a laptop stand depends on your individual needs and preferences. When choosing a stand, you should consider material, height, surface, size, additional features, and price. We hope that this guide will help you choose a laptop stand that is right for you.