Types of modern TVs
Modern televisions are incredibly diverse and multifunctional devices that can meet the needs of any consumer. We can distinguish the following types of modern TVs.
By the way, if you are looking for accessories or spare parts for your TV, we advise you to go to AliExpress. And you will find reliable sellers there with the help of AliHelper. It's a free extension for your browser.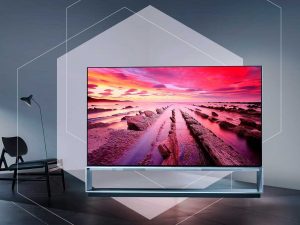 LCD TVs
They use LCD screens to display images and can range in resolution from HD to 4K. These televisions usually have many ports, including HDMI and USB. This allows you to connect various devices such as game consoles, laptops, etc. to them. In addition, most modern LCD televisions are equipped with a Smart TV feature. They can connect to the Internet and use various applications such as Netflix and YouTube.
OLED TVs
They use organic LEDs to display images. Which allows them to provide high contrast and deep blacks. OLED TVs also have wider viewing angles. And can achieve higher brightness levels than traditional LCD televisions. However, these televisions are typically more expensive than LCD televisions and may have a more limited selection of screen sizes.
QLED TVs
They use quantum dots to improve color reproduction and contrast. In addition, these televisions can achieve higher brightness than OLED televisions. QLED TVs can also be equipped with Smart TV and have various ports for connecting external devices.
Televisions with 8K resolution support
These televisions offer higher resolution than 4K televisions and allow for even crisper and more detailed images. However, 8K televisions also tend to be more expensive and have higher requirements for content sources, as 8K resolution content is not yet that common at this time.
Overall, each of types of modern TVs has its own advantages and disadvantages. The choice depends on the needs and preferences of the consumer. Regardless of the type, however, today's TVs provide amazingly realistic and high-quality images. Which makes them the perfect choice for watching movies, sporting events, and games. Thanks to the Smart TV feature. They can also be used to access the Internet, watch YouTube and Netflix videos. As well as for gaming and other entertainment.