What is the best pregnancy pillow?
Pregnancy is a special time in a woman's life, and comfortable rest becomes especially important. One of the popular accessories that can provide maximum comfort during pregnancy are special pregnancy pillows. Designed with women's anatomy in mind, these pillows offer support and comfort, helping pregnant women cope with discomfort and enjoy quality sleep. In this article, we will tell how to choose the best pregnancy pillow in your case.
By the way, there are a wide range of pillows for pregnant women on Aliexpress. And AliHelper will show you reliable sellers and the biggest discounts. This is a free extension for your browser.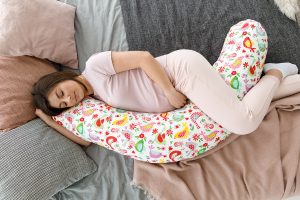 Cushions "sausage"
Long cylindrical pillows that can be placed along the lateral contour of the body, supporting the back, abdomen and legs. They help relieve pressure on the back and pelvic bones, improve circulation and reduce strain on the legs.
Nest pillows
More compact pillows that are shaped like a nest or crescent. They provide support for the back and abdomen and create a feeling of security and comfort.
Side lying pillows
Special pillows that have a notch under the abdomen, allowing the pregnant woman to lie comfortably on her side, which is recommended during pregnancy. They can also include support for the back and legs, ensuring optimal body positioning.
When choosing a pregnancy pillow, the following factors should be considered.
The size and shape of the pillow
It should fit your preferences and physiology. Some pillows have the ability to adjust the size. Which allows you to choose the best option.
Material and filling of the pillow
It should be soft and comfortable. But at the same time have sufficient support. Often, pillows for pregnant women are made of hypoallergenic materials such as cotton, microfiber or viscose. Fillings can be different, such as polyester fiber, polyurethane foam, gel inserts and others.
Pillow functionality
The pillow should perform its function of providing support and comfort. Some pillows have additional features such as detachable parts, adjustable straps, the ability to be used as a nursing pillow after childbirth, etc.
Price
Prices for maternity pillows can vary depending on brand, quality, and functionality. Determine your budget ahead of time and choose a pillow that fits your financial means.
Reviews and Recommendations
Research reviews from other pregnant women who have already used the pillow. And pay attention to recommendations from doctors or grandmothers. This can help you make the right choice.
Now it will be easier for you to choose the best pregnancy pillow.