Boxing headgear: how to choose
When choosing a boxing helmet, there are several factors to consider in order to choose the right model that will provide maximum head protection during training and competition. Here are some extremely important nuances that you should consider. To choose the right boxing headgear.
By the way, boxing helmets and other accessories for sports activities are sold on AliExpress. And reliable sellers there and great discounts will help you find AliHelper. It is a free extension for your browser with many functions.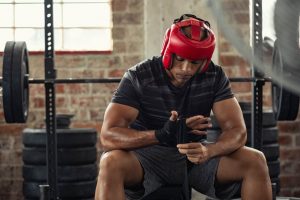 Helmet size
Your helmet should fit your head exactly to provide maximum protection. Incorrect sizing can lead to injury, so it is important to choose the correct size. To measure your head size, you should wrap a soft tape around the widest part of your head. Slightly above the ears and eyebrows. Then compare the results to the size indicated on the package.
Materials
A boxing headgear should be made of durable materials. Such as leather, synthetic materials or a combination of them. This will provide the necessary durability and protection on impact. You should also pay attention to the inner trim of the helmet. It should be soft and comfortable for the head.
Type of closure of the helmet
It can be with velcro, zipper, or lacing. Some boxers prefer lace-up helmets. Because they provide a tighter fit and allow for more precise adjustment of the helmet size. However, velcro and zippered helmets are easier and quicker to put on and take off.
Additional Features
Some helmets may have additional features that improve comfort and protection. For example, some models have a flip-up visor that protects against bright light. And others have vents to improve air circulation.
Brand and Price
A good boxing helmet can cost quite a bit. But you should not skimp on safety. It is better to choose a well-known brand that guarantees the quality and reliability of products.
Trying on
It is necessary to try on several models of helmets to choose the most suitable. Remember that the helmet should fit tightly, but it should not press on the head. It should also not slip heavily against the skin.
All in all, choosing a boxing headgear can be quite difficult. But if you take into account the above factors, you will be able to choose the most appropriate model. Which will provide you with the necessary level of protection and comfort.