Flower Pots: how to choose correctly
Flower pots can be of different types and materials, each with its own advantages and disadvantages. Below you will find some of the most common types of flower pots.
By the way, a large range of pots is available on AliExpress. And to find there reliable sellers and great discounts will help AliHelper. This is a free extension for your browser.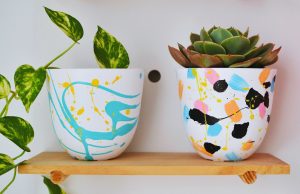 Plastic pots
They are one of the most common types of flower pots. Because of their ease, affordability and ease of use. Plastic pots are also available in a variety of sizes, shapes and colors.
Clay pots
Clay is the traditional material for flower pots. They are strong and natural and provide good ventilation and moisture retention. However, they can be heavy and more fragile than plastic pots.
Ceramic pots
Ceramics are a more decorative material for flower pots than clay. They can be made in a variety of styles and designs, allowing them to be used as an additional decorative element in the home. However, ceramic pots can be heavier and more fragile than clay pots.
Metal pots
Metal pots can be made of a variety of materials such as aluminum, copper and iron. They are durable and can withstand fairly high temperatures, making them an ideal choice for plants that love heat. However, metal pots can be heavier and less affordable than plastic pots.
Glass pots
Glass is a more unique material for flower pots. They can look very pretty, especially if the plant has an unusual root ball. However, glass pots can be more fragile and heavy, making them not a very practical choice
Wooden pots
Another beautiful and natural option that is great for garden designs. Wooden flower pots are usually made of pine. Or, for example, cedar or cypress. And can be coated with lacquer or oil to protect against water and sun.
There are several factors to consider when choosing a flower pot.
Flower size. The pot should be roomy enough for the plant to have enough room for growth and root development.
Drainage holes. The pot should have drainage holes to remove excess moisture that can harm the roots of the plant.
Pot design. The choice of pot design depends on your preferences and the interior of the room in which you plan to place the pot.
With these factors in mind, you'll be able to choose a pot that's right for your plant.