Embroidery frame – which one to choose?
An embroidery frame is a tool that is used to stretch the fabric while you embroider. They help to hold the fabric tight and flat. So that the embroidery is neat and of good quality. When choosing an embroidery hoop, there are several important aspects to consider.
Hoops and other embroidery accessories in a huge range presented on Aliexpress. And AliHelper will help you find reliable sellers and great deals. This is a free extension for your browser with many features.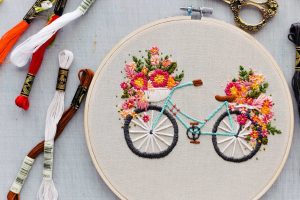 Size
Embroidery hoops are available in many sizes. From small for embroidering small projects, to large for working on larger embroideries. Choose a hoop that fits the size of your project. A larger embroidery frame will allow you to stretch more fabric and work on larger patterns. While a small hoop will be perfect for smaller, more detailed work.
Material
Hoops can be made from many different materials including wood, plastic and metal. Each material has its own advantages. Wooden hoops have a natural and warm texture, while plastic hoops are lightweight and durable. Metal hoops are often used by professionals and are very durable. Choose the material that feels most comfortable and pleasant to use for you.
Hooping Mechanism
There are different types of hoop mechanisms. Some hoops have a screw mechanism that allows you to adjust the fabric tension. Other hoops have a spring clip that makes it easy to hold your fabric in place and adjust the tension.
Usability
It's important to choose a hoop that's comfortable to hold and easy to use. Pay attention to the shape and size of the hoop handle. It should provide good ergonomics and comfort for long embroidery sessions.
Brand and Quality
Pay attention to the brand and quality of the hoop. Check reviews from other embroiderers and check the manufacturer's reputation. A high quality embroidery hoop usually provides strong fabric tension, durability, and ease of use.
Additional Features
Some embroidery hoops may have additional features that make the embroidery process easier. For example, some models have built-in magnets that hold needles or pins. That way they are always at hand. There is also a hoop with the ability to rotate, allowing you to conveniently change the direction of embroidery.
Budget
Determine your budget and choose a hoop that fits your finances. Keep in mind that a higher quality hoop may cost more, but it will also be durable and provide better embroidery results.
It is also important to consider your personal preference and style of embroidery. Different embroiderers may prefer different types of hoops. So choose the one that best fits your personal style and preference.