Grill grates – types, how to choose the best one
Grill grates are an essential element of any grilling equipment. There are many types of grill grates, each with its own features and benefits. In this text, we will look at some of the most common types of grills. And give advice on choosing the best one for your needs.
By the way, you can buy grills and other grill accessories on AliExpress. And the AliHelper extension will help you find reliable sellers. Install it on your browser for free!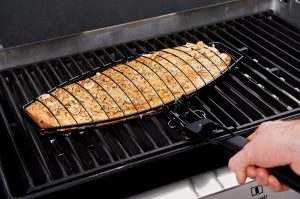 Cast Iron Grills
Cast iron grills are considered the most popular grills. They are durable, retain heat well, and heat evenly. However, they require careful maintenance. Since they can rust and build up a deposit. To care for cast iron grids, you need to brush them regularly and lubricate them with vegetable oil.
Stainless Steel Grids
Stainless steel gratings are durable and easy to maintain. They do not rust and are easy to clean. However, stainless steel retains slightly less heat than cast iron. In addition, food residue can appear on stainless steel. Which are more difficult to remove than from a cast iron grate.
Alloy grates
Alloy grates, such as aluminum or copper, are good because they heat evenly and don't rust. However, they are often more expensive than other types of grids. And they can warp at high temperatures.
How to choose the best grill grate?
There are several factors to consider when choosing a grill grate. First, determine how often you will use the grill. And how much you are willing to spend to buy one. If you are willing to spend more money, an alloy grill is the best option. If you're looking for something more affordable, a cast iron or stainless steel grill is a better choice.
You should also consider the size of the grill. If you have a large grill, it is better to choose a larger grate. Also, consider the type of grill you are going to install the grill on. Some grills are designed for certain types of grills and may not be suitable for others.
Another important factor is the shape of the grill. Grills come in square, rectangular and round shapes. Choose the shape of the grate depending on what type of food you plan to cook. A round grate is suitable for grilling larger pieces of meat. A square or rectangular grid is better suited for cooking small pieces.
You should also pay attention to the distance between the bars of the grill. If the bars are too close together, the food may stick to the grate. And it will be harder to turn it over. The optimal distance between the bars is about 1 cm.
It is also important to check that the grid is easy to clean and sufficiently strong. Check the grating material for defects and damage before buying.
In the end, when choosing a grill grate, consider your personal preferences and the features of the grilling equipment you plan to mount the grate on. The right grill grate can be an indispensable aid in preparing delicious grilled food.