How to plan a date at home
How to plan a date at home? Here are a few points to help you arrange an unforgettable romantic date at home.
By the way, on AliExpress you can find a lot of products for the perfect date. Massage oil, room decorations, as well as adult toys, etc. But you should only buy these things from trusted sellers. Find them with our free AliHelper browser extension.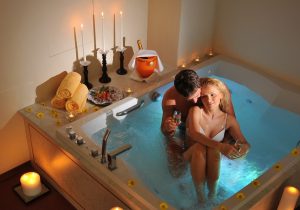 Find the Right Place
You can have your date in the living room, in the kitchen, or even in the bedroom if you want. The main thing is that the place should be cozy, clean, and create a romantic atmosphere.
Decorate the place
Place candles, a vase of flowers, draw chalk drawings on the board, place soft pillows and plaids. The goal is to create an atmosphere of coziness and romance.
Choose a menu
If you love to cook, this is a great opportunity to show off your culinary talents. Choose dishes that are easy, yet delicious and gourmet at the same time. Make a tentative shopping list and make sure you have all the groceries in stock. Otherwise, enlist the help of delivery.
Choose your drinks
Champagne, wine or cocktails – choose drinks that you and your partner will enjoy. Don't forget fresh water and juices to quench your thirst.
Think music
Create a playlist of melodic, romantic songs. This will help create an atmosphere of love and romance.
Prepare surprises
You can buy a gift or write a letter in which you express your feelings. Little surprises help keep the romance alive and give each other joy.
Dress appropriately
Choose something comfortable and beautiful that your other half will like. Don't forget your hair and makeup if that's important to you.
Get a massage
Treat each other to relaxing massages using scented oils and candles.
Concentrate on your partner
Turn off your phones and focus on talking to each other. Share memories, discuss your dreams and plans for the future. A date is an opportunity to strengthen the relationship and show love and care.
Of course, it's important to remember that every person is unique and has their own preferences. So remember to listen to your partner and consider his/her desires. And interests to create the most unforgettable romantic evening at home.
In the end, a romantic date at home is an opportunity to show your care and attention to your partner. Show creativity and originality. It is important to remember that you do not need to set yourself too big goals. After all, the very idea of having a romantic evening already speaks of your desire to create a special atmosphere for your significant other. The main thing is not to forget about your feelings and enjoy the time spent together. Now you know how to plan a date.