Pin for badge – Buying Guide
Pin for badge is a pin that allows you to wear your badges on your clothing or bag. It secures your badges and adds a stylish accent to your look.
Aliexpress offers a variety of badge pins and other craft accessories. And AliHelper will help you find reliable sellers and great deals. This is a free extension for your browser.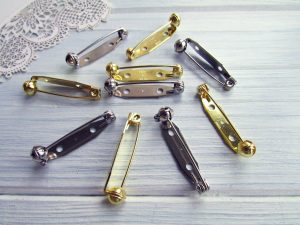 Classic pin
This is the most common type of pin for badges. It consists of two parts: a base and a rivet. The base has the usual shape of a pin and the rivet provides a secure hold on the badge. Classic pins are available in a variety of sizes and materials such as metal or plastic. When choosing, pay attention to the quality of the material and the strength of the rivet.
Magnetic Pin
Magnetic pins are becoming increasingly popular. They don't require piercing your clothes and don't leave a mark. Instead, they use the power of a magnet to attach the pin to the garment. This type of pin is comfortable and safe. But keep in mind that some magnetic pins may be less secure. And uncomfortable when carrying heavy badges.
Clamping Pin
A clip-on pin has a clip that attaches to clothing without requiring piercing or using a rivet. It provides a quick and easy way to attach badges and is convenient for everyday use. When choosing a clip-on pin, pay attention to the quality of the clip and its reliability.
Magnetic Clamping Pin
This type of pin combines a magnetic and a clip-on attachment.
Designer Pins
Designer pins offer a large selection of unique shapes, colors and patterns. They allow you to express your individuality. And add a stylish accent to your look. You can choose pins with different themes. For example, floral motifs, animals, geometric shapes or symbols.
When choosing badge pins, also pay attention to the following factors.
Quality of the material
Pins made of durable materials should be preferred. Such as metal or durable plastic. This will ensure durability and reliability of attachment.
Pin size
The size of the pin should match the size and shape of your badge. Make sure the pin is large enough to ensure the badge is securely attached. But also not too bulky so that it doesn't disrupt the overall look of your look.
Ease of use
When choosing a pin, pay attention to the ease of use. It should open and close easily, and it should hold your badge firmly in place. Try using the pin before you buy it to make sure it is comfortable and practical to use.
Safety
Make sure the pin does not have any sharp or protruding parts that could hurt you or damage your clothes. The pin should be safe to use and not uncomfortable to wear.
Remember that the choice of pin for badge depends on your personal preference, style, and needs. Choose ones that reflect your personality and allow you to express your style.