Protein for weight gain: which one is better to choose
Protein is a macronutrient that consists of amino acids, which are the building blocks of proteins in our bodies. When we eat protein, our stomach breaks it down into amino acids. These then enter the bloodstream and are transported to the muscles for growth and repair. Protein for weight gain can come from many different sources. Such as meat, fish, eggs, and plant foods. However, it can be difficult for those who exercise to get enough protein from food alone. This is why many people use special protein supplements.
A large selection is available on AliExpress. You will also find a variety of accessories for sports at affordable prices. And the biggest discounts and reliable sellers will show you AliHelper. This is a free extension for your browser.
There are many different types of protein supplements, including concentrates, isolates, hydrolysates, and combinations thereof. Each type of protein supplement has different characteristics that can affect its effectiveness.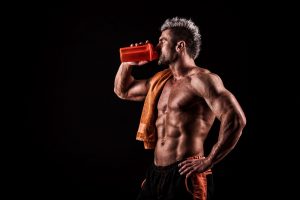 Protein concentrate
The most affordable type of protein supplement that contains about 70-80% protein. It may contain small amounts of fat and carbohydrates. And it usually tastes better than other types of protein supplements.
Protein Isolate
A purer type of protein supplement that contains about 90-95% protein. It is usually very low in fat and carbohydrates. And is more suitable for those who are watching their diet and want to increase their protein intake.
Protein Hydrolysate
A type of protein supplement that goes through an additional hydrolysis process that makes protein more easily digestible. Some studies show that protein hydrolysate can help improve muscle growth and post-workout recovery.
Combination Protein Supplements
A mixture of several types of protein, such as concentrate, isolate, and/or hydrolysate. This can help improve the effectiveness of the supplement, as each type of protein has its own advantages and disadvantages.
However, protein for weight gain is not the magic tool for muscle growth. It can help increase your protein intake and improve muscle growth. But only when combined with a proper diet and regular workouts.
For those who work out and want to increase their protein intake, it is recommended to consume protein within 30 minutes of a workout when muscles need building materials for growth and recovery. It is also recommended to consume protein throughout the day. To maintain a constant supply of amino acids to your muscles.
However, protein supplements should not be abused, as excess protein can lead to undesirable effects. Such as damage to the kidneys, liver and other organs. The recommended daily dose of protein for sports is approximately 1.2 to 1.7 grams per kilogram of body weight per day.
It is important to note that protein supplements are not a substitute for natural sources of protein in the diet. Such as meat, fish, eggs, etc. These foods also contain other essential nutrients that may be important for overall health and fitness.