Travel iron – which one to choose
A travel iron is an important aspect for traveling and taking care of your clothes comfortably on the road. When choosing a travel iron, there are several key factors to consider in order to find the right model.
Travel irons are available in a large assortment on Aliexpress. And find there reliable sellers and good deals will help AliHelper. This is a free extension for your browser.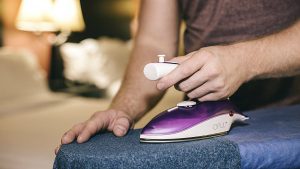 Size and weight
Travel irons are specially designed for travel and need to be compact and lightweight.
Voltage and compatibility
If you plan to use your iron outside of your country, make sure it is compatible with the voltage in the country you will be in. Some models are multifunctional and can handle different voltages.
Power and efficiency
An iron should have enough power to effectively smooth clothes. Pay attention to the specified power and the manufacturer's recommendations.
Temperature regulation
A good travel iron should be able to adjust the temperature according to the type of fabric. This will avoid damaging delicate fabrics and give optimum ironing results.
Steam function
The steam function is an important aspect of travel irons. It helps you iron fabrics more efficiently and remove creases. Check the steam function and its features. Such as steam power and water capacity.
Extra features
Some travel irons may have extra features. Such as automatic overheat shutoff, anti-drip, and similar features. Think about what features you need and choose the model that suits your needs.
Quality and workmanship
Pay attention to the quality of the iron's workmanship, the materials used by the manufacturer. High-quality travel irons usually have sturdy and solidly assembled housings, as well as reliable components.
Reviews and Manufacturer Reputation
Research reviews from other users and the reputation of the manufacturer before you buy. This will help you get an idea of the quality and reliability of the model you choose.
Safety
Make sure your iron has the right safety features. Such as overheat protection, automatic shutdown if not in use, and protection against accidental hot surface contact. This will ensure your iron is safe to use on the go.
You should also keep in mind the rules of iron use to avoid potential problems. For example, don't leave your iron unattended when it's on and always follow the manufacturer's instructions for use and care.