Crystal Hair Eraser – How to use it
Crystal hair eraser is a handy and effective tool that allows you to quickly and painlessly remove hair from any part of the body. It works on the principle of waxing. It removes hair with the root and does not irritate the skin. Therefore it can be used even on the most sensitive parts of the body.
Crystal hair eraser can be purchased on Aliexpress. And to find there reliable sellers and good deals will help AliHelper. This is a free extension for your browser with many functions.
Proper use of a hair removal eraser is essential to achieve the best results and prevent skin trauma. Here are some basic guidelines for using this tool.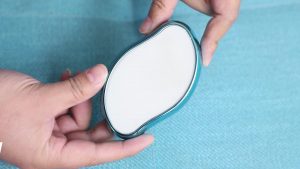 Algorithm of use
Prepare your skin. Before using the eraser, the skin should be cleaned and dried. This will help improve the grip of the eraser on the hair. And prevent discomfort when removing hair.
Place the eraser against your skin. Press the eraser onto the skin, moving it in the direction of the hair growth. You need to apply enough force so that the eraser can grip the hair. But not so much as to damage the skin.
Remove the hair. Once the eraser has caught on to the hair, quickly and sharply pull it away from the skin in the opposite direction of the hair growth. This will help remove the hair from the root and prevent it from growing back.
Repeat the procedure. After removing hair with an eraser, repeat the procedure on other areas of the body.
Precautions
After using the hair removal eraser, you should lubricate your skin with a light moisturizing cream or lotion. To prevent its irritation.
It is important to remember that the use of the hair removal eraser is not recommended for people with very sensitive skin, with circulatory problems or skin diseases. It is also not recommended to use the eraser to remove hair on the area of the skin with wounds, abrasions, rashes or other damages.
In addition, before using the eraser, you should make sure that the hair is long enough. So that the eraser can grab them. If the hair is too short, the eraser may not grab it. And the procedure will not be effective.
Overall, the crystal hair eraser is a handy and safe hair removal tool. Which can be used on most areas of the body. It easily removes hair with the root and prevents its re-growth for a long time. However, before using it, you should make sure that the hair removal method suits your individual skin and hair.