Which steamer is best: a complete buying guide
Clothes steamers have become a popular and convenient solution for quickly and efficiently removing creases from clothes without the need for ironing. They can be useful in a variety of situations. Such as preparing for an important event, traveling or daily use at home. Here are some basic types of clothes steamers. And a guide on how to choose the right one. Let's find out which steamer is best.
By the way, steamers in a large assortment are presented on AliExpress. However, the equipment should be bought only from reliable sellers. To find them will help you find a free extension for your browser – AliHelper.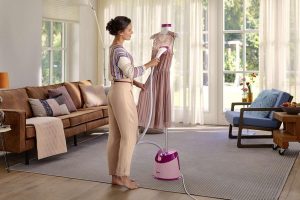 Hand-held steamers
These steamers are compact and portable. Ideal for use on the go or on the road. They usually have a small water tank and are battery- or mains-powered. Handheld steamers are easy to use and ready to use quickly. But their power can be limited. And they can be ineffective for treating larger surfaces of clothing or heavy fabrics.
Vertical Steamers
These are the most common type of steamers, which are vertical racks with a water tank and a long hose with a nozzle. They can be used to treat different types of clothing. Including dresses, shirts, suits and others. Vertical steamers usually have more powerful motors, allowing them to effectively deal with wrinkles in a variety of fabrics. They may also have additional features. Such as temperature adjustment and steam height adjustment. Which makes them convenient and multifunctional.
Steam generators
These are professional steamers that are usually used for commercial purposes. In hotels, restaurants, boutiques, and other places where you need to treat large quantities of clothing. Steam generators have high power and a large water tank. This allows them to run for a long time without refilling. They also usually have professional features. Such as steam intensity adjustment, automatic overheating shutdown and other options for optimal performance.
However, there are also some factors to consider in order to figure out which steamer is best.
Power and efficiency
The higher the power of the steamer, the faster and more efficient it is in dealing with wrinkles on your clothes. The optimal power depends on your needs and usage preferences.
Water tank
The size of the tank determines the battery life of your steamer. If you have large apparel needs, select a steamer with a larger tank to avoid frequent refills.
Functionality
Some steamers have extra features. Such as steam temperature adjustment, automatic overheat shutoff, steam height adjustment, and more. They can make steaming more convenient and efficient.
Ease of use
Pay attention to the ease of use of the steamer. Such as the length of the hose, the presence of wheels for moving, the ease of refilling with water, and other details. They can make the process more convenient and comfortable.
Clothes steamers can be a great way to keep your clothes smooth and neat without the use of an iron. Choosing the right steamer can make ironing clothes much easier and faster, saving you time and effort.