Echo sounders for fishing TOP-5
Fishing is a sport that requires patience and precision. And, of course, to increase your chances of success, you need to have the right equipment. One of these important devices is an echo sounder for fishing. They are found in abundance on Aliexpress at low prices. And the free AliHelper extension will help you find reliable sellers there.
An echo sounders for fishing is a device used to determine the depth of the water. And the presence of fish in it. The way an echo sounder works is that it sends sound pulses into the water and records the time it takes for these pulses to reflect off the bottom and return back to the echo sounder.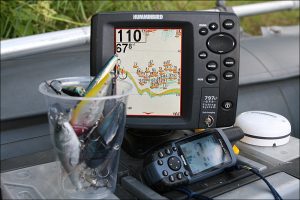 The sonar uses sonar technology to measure the time delay between sending and returning a pulse. And also to analyze the change in frequency and shape of the echo from the returned signal. This information is then converted into a graphic image showing the depth and structure of the water. As well as the presence of fish.
Modern echosounders for fishing are equipped with advanced technologies. Such as digital signal processing and depth maps, which provide more accurate information about the body of water. Some sonar models are also capable of detecting water temperature and oxygen content.
Here are our top 5 best sounders for fishing:
Lowrance HOOK2-5 with three-frequency sonar function
This fishing sounder features ease of use and accurate readings. It also has Navionics cards that provide greater accuracy and reliability.
Humminbird HELIX 5 CHIRP GPS G2 with GPS and Navionics maps
This echo sounder has a bright color display and supports Navionics maps. Allowing fishermen to search for fish in places they haven't been before.
Garmin Striker 4cv with CHIRP sonar and GPS
This compact and easy-to-use echo sounder from Garmin has a GPS feature. That helps fishermen find their spot and instantly determine water depth and fish presence.
Raymarine Dragonfly-5PRO with CHIRP DownVision and Navionics charts
This sonar has a unique CHIRP DownVision feature that allows you to see a detailed picture of the bottom. Including structure and fish. Navionics maps provide accurate and reliable water charts.
Deeper PRO+ Smart Sonar with Wi-Fi and GPS
This handheld sonar has Wi-Fi and GPS capabilities. Allowing anglers to connect to an app on their smartphone and get detailed information on depth, water temperature and fish presence.
By choosing one of these echo sounders. You will have a better chance of a successful fishing trip. It is important to remember that using a sounder correctly requires practice and experience. So don't forget to learn and improve your skills!