Fishing lines – which one to choose?
The right fishing lines is an important step to successful fishing. Also, the choice of fishing line determines the safety of the fishing process. Let's find out how to choose fishing line and what factors to consider.
By the way, a large selection of fishing lines and other tackle is presented on Aliexpress. And to find there reliable sellers and the biggest discounts will help you AliHelper. This is a free extension for your browser.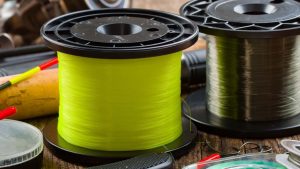 Thickness
The first step in choosing a line is to determine the thickness of the line. The thickness of the fishing lines depends on the size of the fish you plan to catch. For larger fish, it is recommended to choose a thicker line. And for small fish – thinner. You also need to consider the location and weather conditions. Which may affect the choice of line thickness.
Material
The second factor to pay attention to when choosing a fishing line is its material. The best material for fishing line is fluorocarbon. It has high strength and resistance to abrasion. It also has good gliding properties, which makes it easier to catch fish.
Length
The third factor in choosing a line is its length. The length of the fishing line depends on the fishing conditions and the size of the fish. If you are fishing for big fish in deep water, it is better to choose a longer fishing line. To reduce the likelihood of breaking it. However, if you are fishing for small fish in shallow water, a shorter line will be more convenient and practical.
Color
The fourth factor in choosing fishing line is its color. It is better to choose a line of a color that matches the color of the water as much as possible. For example, in murky water, it is better to use dark-colored fishing line. And in clear water, more transparent fishing line.
Other options
Finally, when choosing line, you need to consider its resistance to ultraviolet light, cold and water exposure. In addition, you need to ensure that the line is stored properly in order to maintain its quality. Fishing lines should be stored in a dry and cool place, protected from direct sunlight.
It is also necessary to pay attention to the manufacturer of the line. It is better to choose line from well-known and trusted manufacturers. To be sure of its quality and reliability.
When choosing a line, you need to consider not only the size and type of fish, but also the place of fishing, weather conditions and other factors that may affect fishing and safety.
In the end, choosing line is a process that requires care and knowledge. By following the tips above, you will be able to choose the fishing line that is best suited for your fishing trip. Remember that the right line is a guarantee of successful and safe fishing!