Hair chalks. Are they harmful?
Hair chalks are a bright and trendy trend that allows you to stand out from the crowd and emphasize your individuality. However, many people wonder if hair crayons are harmful
As a rule, using hair crayons is not harmful to the hair and scalp. However, using crayons on a regular basis or applying them to very dry or damaged hair can cause damage to hair and scalp.
A large selection of hair crayons is available on Aliexpress. And find there reliable sellers and great deals will help you find AliHelper. It is a free extension for your browser.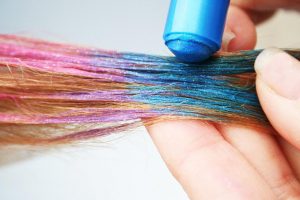 Recommendations
Use crayons no more than a few times a week.
Apply crayons to clean hair. And avoid applying to hair that is too dry or damaged.
After using the crayons, brush your hair thoroughly. To avoid tangles and damage.
Also, when choosing hair crayons, make sure that they are made from natural ingredients. And do not contain any harmful chemicals.
Precautions
However, individual hair and scalp conditions should also be considered when using hair crayons. Some people may have allergic reactions to the ingredients of the crayons. Therefore, a skin sensitivity test is recommended before use.
In addition, the crayons may leave traces on clothes or linens. Therefore, you should be careful when using them.
What are hair chalks for?
Hair chalks are a great way to experiment with new hairstyles and color combinations. Without the need to color your hair. They can be used to create colorful patterns, drawings or even lettering on the hair.
Crayons can also be used to create temporary haircuts or hairstyles. For example, you can add bright red crayons to the ends of your hair. To create the effect of an "ombré" haircut, or to draw a "pixie" hairstyle using crayons.
One of the main advantages of hair crayons is that they are temporary. You can easily remove the crayons with shampoo and water, allowing you to experiment with different colors and styles without the risk of damaging your hair.
Overall, crayons are an interesting and safe way to add brightness and originality to your look. They can be used to create different hairstyles and experiments with hair color, while not harming the hair and scalp.