Tinting hair mask: how to use correctly
Hair is an important part of our appearance. It can help us express our personality and style. One of the most popular and effective ways to change your hair color without drastic changes is the use of tinting hair masks. In this article, we will look at how to properly use tinting hair mask. To achieve the best results.
By the way, for any coloring at home you need a lot of accessories. Clips, gloves, brushes, bowl, combs, cape, etc. You can find it all on AliExpress. And AliHelper will show you the best dealers and the biggest discounts. This is a free extension for your browser.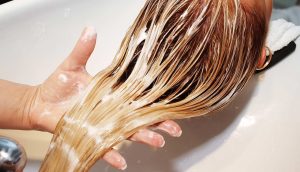 Get the right shade
The right shade of tinting mask is the key to successful hair coloring. Choose a shade that suits your current hair color and your desired result. For example, if you want to enhance your natural hair color, choose a tinting mask that is close to your natural shade.
Prepare your hair
Before applying the tinting mask, make sure that your hair is clean and fresh. It is best to apply the mask to damp, towel-dried hair. If your hair is dry, it can absorb the mask better. And achieve a more even result.
Apply the mask evenly
When applying the tinting mask, make sure that it is evenly distributed throughout the length of your hair. Use a hair comb or comb. To distribute the mask evenly from roots to ends.
Follow the manufacturer's instructions
Hair tinting masks have instructions from the manufacturer that must be followed. Read the manufacturer's instructions carefully and follow them. To achieve the best results.
Control the exposure time
The holding time of the tinting mask on your hair is also important. Do not keep the mask on the hair longer than the manufacturer recommends. To avoid unpredictable results. If you want a richer color, it does not mean that you should extend the dwell time. It is better to use a richer mask. Or repeat the treatment after a certain amount of time.
Rinse your hair with warm water
After soaking for the time specified in the instructions, rinse your hair thoroughly with warm water. Make sure the mask is completely rinsed out of your hair. To avoid stains or residue on the hair. Do not use hot water, as it can damage the hair and rinse the mask unevenly.
Finish your hair treatment
After rinsing off the tinting mask, it is recommended that you use a conditioner or hair mask to moisturize and care for your hair.
Maintain Results
In order to maintain the result of the tinting mask, use the mask regularly according to the manufacturer's recommendations. And maintain good hair care in general. Avoid using harsh shampoos or products that can wash out color. And protect your hair from sun and heat exposure. To maintain the brightness and intensity of the color.