What is a highlighter?
What is a highlighter? It is a cosmetic makeup product that allows you to highlight and emphasize certain areas of the face. It is used to create a more expressive and fresh look, adding glow and shine to the skin.
Highlighters can be bought even on Aliexpress. However, cosmetics should be purchased only from reliable sellers. AliHelper is a great way to find them. This is a free extension for your browser with many functions.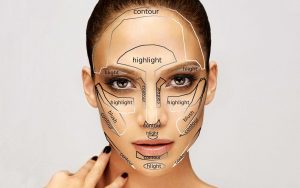 Texture
Highlighters come in a variety of textures. In powder, liquid, cream and stick form. In powder form, the highlighter has a drier texture. And it is easy to apply with a brush. Liquid and cream highlighters have a richer, more long-lasting effect. And stick highlighters are convenient to use and make it possible to apply the product point by point to the desired areas.
Areas of application
Highlighters can be applied to the upper cheekbones, the nasal ridge, the brow bone, the edge of the eyelid, the center of the forehead, the chin and the upper lip. But you should not apply highlighter all over the face. As this can create an undesirable effect of too shiny skin.
Shades
When choosing a highlighter, you should consider not only the texture of the product, but also its shade. Highlighters come in different colors: gold, pink, beige, purple and many others. The color of the highlighter should match the color of your skin and makeup in general. If you choose a highlighter in powder form, pay attention to its texture. It should be fine grained so that the product can be easily applied and blended on the skin.
Illumination
It's also worth considering that the choice of highlighter may depend on the time of day and lighting. For example, in sunlight, it is recommended to use a highlighter with a golden hue. And in the evening you can experiment with brighter and more saturated colors. You can also choose highlighter with pearlescent particles, which give the skin a special shine in low light conditions.
If you are just getting acquainted with highlighters, it is recommended to choose a neutral shade. Which can be used in everyday makeup. Gradually you can experiment with brighter and more unusual shades.
Skin condition
It is also worth considering your skin type when choosing a highlighter. If you have oily skin, it is better to choose water-based products. Which will not weigh down the skin and will not cause additional shine. For dry skin, it is recommended to choose cream and liquid highlighters. Which will allow you to maintain the natural glow of the skin.
It is important to remember that the highlighter – a cosmetic product. And it should be used in moderation. An excessive amount of the product on the skin can create an unwanted mask effect. When applying the highlighter, it is worth controlling the amount of product on the brush and apply it to the brush first. And then distribute it evenly to the desired areas of the face. Now you know what is a highlighter.