What is a diamond painting and who it suits
What is a diamond painting? It is a creative art that combines precision and beauty. It is made up of thousands of miniature crystals. Which turn into amazing images and patterns when they are put together.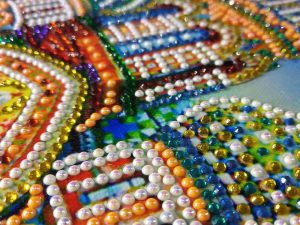 History of the origin of diamond painting
This mosaic art technique appeared in China over 2000 years ago and quickly spread around the world. Today, diamond mosaic is one of the most popular hobbies. Which brings together people of different ages and cultures. By the way, China, namely AliExpress, is now and remains the main supplier of diamond art. And the most reliable sellers on AliExpress, as well as great discounts, will show you free AliHelper.
The Process
Making a diamond panting is a labor-intensive process that begins with selecting an image. Then, a set of miniature crystals – discs, along with tweezers and a special canvas, are used to create the picture. Each crystal is carefully placed on the canvas to create a unique picture.
Creating a diamond painting is a process that requires patience and care. But it is also a process that can bring a lot of fun and joy. When you see the painting evolve and turn into an amazing work of art.
Once the painting is complete. It can become a beautiful decoration for your home or an original gift for family and friends. Diamond paiting is not only a hobby. But also a way to express your creativity and create something unique and beautiful.
Who is suitable for it?
First and foremost, it's suitable for people who love creative pursuits. It can be a perfect way to show your imagination and fantasy. Diamond paiting give people the opportunity to create beautiful works of art with small, shiny beads. Allowing them to express their creativity.
Diamond painting is also suitable for people who love needlework. If you have already done needlework or cross embroidery. Then diamond mosaic can be a new hobby. It allows you to create works of art that are not only beautiful, but also original.
Diamond mosaic can also be an ideal hobby for people. Who want to relax and distract from their everyday problems. It is a fascinating hobby that allows you to get away from stress and immerse yourself in the creative process.
In addition, diamond paiting can be fun for children. Children love to create beautiful things. And diamond mosaic gives them the opportunity to create not only beautiful. But also brilliant works of art. This can be a good way to spend time with your child. And develop their creativity.
In general, diamond painting is suitable for all people who want to try a new hobby. Express their creative nature or just relax. If you haven't yet tried creating art with diamond mosaics, this could be a great discovery for you.